The summer before my senior year of college I became antsy about school so I decided to take a semester off to travel and work as a volunteer. I had never been outside of the United States before and was nervous about being in a foreign country alone. As a volunteer there was the independence of being on my own but there was still the comfort of knowing I had the coordinators there to help me adjust. During my research for a volunteer program I came across many organizations but I was drawn to uVolunteer.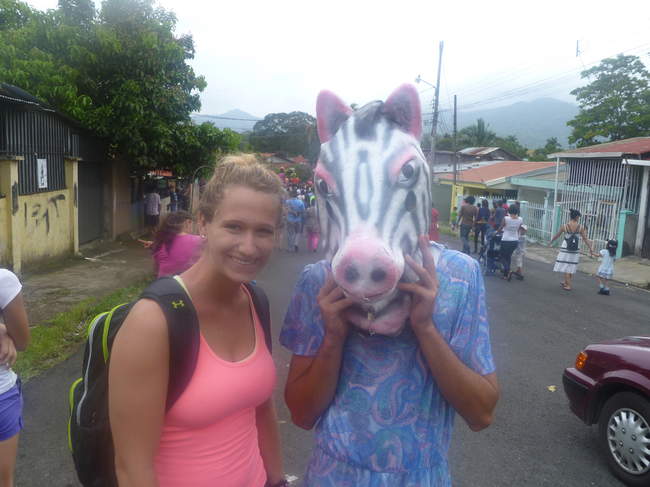 Rather than a home-stay it provided a dorm for all the volunteers to live in together and their office was down the street so if anything happened they could easily get to you. I know a lot of people who have stayed in a home-stay in foreign countries, and while some people think it makes the experience better there are others who did not feel comfortable with their home-stay families. I personally would have felt uncomfortable in a home-stay situation and uVolunteer seemed to be the only organization that offered an alternate living situation.
The range of programs uVolunteer offered also intrigued me. I am studying environmental science but I also enjoy working with children and uVolunteer allowed me to do both.
When I finally decided on uVolunteer it was only 2 months before I wanted to leave. The application process was simple but took some time. The organization was very helpful when I had questions concerning my application and payment and sent me my information in a reasonable time frame. While the information I received prior to arriving in Costa Rica seemed to answer all my questions it still seemed limited. When I arrived I literally had no idea what I was getting myself into. The weekend I arrived in Costa Rica was Independence Day and I was the only volunteer. Fortunately the uVolunteer coordinators, Ligia and Mario, made sure I was not alone in the house. They took me to the parades, neighboring towns and out to coffee. It was a hard adjustment but having them around made it a lot easier.
For my first six weeks I worked on an Environmental Conservation project. I was placed at a nature park in the neighboring town where a handful of other volunteers were working. The other volunteers were from various organizations and countries. My first day I explored to park with Mario and met the other volunteers, for most of the day we didn't really do much. There was no one there to over see the volunteers or tell them what needed to be done so we had to find our own projects.
During my time there I helped clear the trails, maintained the main area of the park, worked in the butterfly garden, built a trail in the medical garden and other miscellaneous activities.
The next 6 weeks I spent time working the Hogarcito, children's home. This project was similar to the environmental conservation in the sense that you had to find your own personal project. It was always an option to just play with the kids but if I was going to be there for six weeks I wanted to do something more permanent. After speaking with Ligia and the Tias in the home I decided to build them a garden. I had never built a garden before but after my experience in the medical garden I felt confident I could do it. I researched the most efficient way to make a garden and spent half my time at the home working on it. During my last week I finally completed it with a fence. The other half of my time at the children's home was spent with the kids. We would either play games or run around or I would plan a craft or special activity to do with them. I tired to plan an activity once a week so they would have something new and different to do. I like to think my time spent at the Hogarcita was successful and that I gave the kids some good memories during a hard time in their lives.
There is a low season and high season for tourism and volunteers in Costa Rica, I did not know this. I arrived in Costa Rica in the middle of the low season and was the only volunteer in the dorm. I am scared to be alone in my own home and then I end up being alone in a random house in a foreign country, to put it simply I was terrified. Luckily Ligia and Mario made sure I felt safe. Ligia stayed with me in the house my first night and made sure I understood how to work the security system and lock the doors. While I still felt slightly uneasy the first two weeks I was completely safe.
Every morning I woke up to the smell of breakfast or the sound of the blender making fresh juice. Dona Isabel is the cook and maintains the volunteer house. She made delicious food and was extremely nice. If we ever wanted something specific to eat for breakfast or dinner, she would make it and just when we were realizing we were a little homesick she would make meals that we were used to from home. During my third week I got sick and lost my voice, if you think you miss home while you're healthy try being sick. All I wanted was my mom to take care of me but Ligia and Dona Isabel were amazing and took care of me just as well as my mom.
The dorm is independent and homey but Mario, Ligia and Dona Isabel are there when you need them to make sure you are comfortable and enjoying your time in Costa Rica.
My first 2 weeks in Costa Rica I lived alone and I did not want to travel alone. I had never been outside the US and had no idea how to handle myself in a country where I barely spoke the language. Thankfully, after 4 weeks I got four Canadian boys as roommates. After their first week we all travelled together to a nearby volcano and stayed in a hostel. That weekend we met a group of people who we ended up travelling with the following 3 weekends. Travelling around Costa Rica proved to be so much easier than I thought. The public buses are safe and clean, the hostels are surprisingly nice and there are so many places in Costa Rica worth seeing.
I heard some horror stories about people being robbed or getting lost while travelling but from what I saw and learned was that as long as you use your common sense and avoid sketchy situations you will be fine.
And do not be afraid to go somewhere because you are afraid you'll get lost or end up scared and alone. There are cabs everywhere and there is always someone willing to help you figure out where you need to go, you just have to be smart about it. Do not be afraid to travel! You will regret it if you don't!
Throughout my stay in Costa Rica I feel like I achieved my personal goals and so much more. My 3 months here were incredible and I literally had the time of my life. I could not have wished for a better experience, and for anyone who is unsure about taking the leap and volunteering in another country all I can say is, do it.
My Trip Gallery