First, it was so wonderful to have Ronald met me at the airport, like an old friend – he deserves applause.
He had sent his photo which helped too – I knew what he looked like – great! Please continue to do this.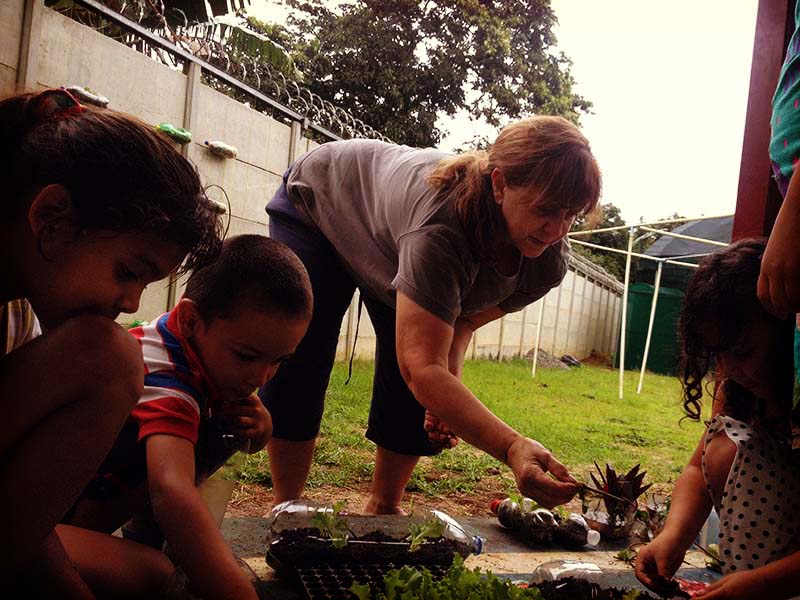 Ronald made the program start with a bang – after he met me, he gave me water, asked how I was, he really cared, and it showed. He continued that consideration throughout the program, meeting with me, asking how I was doing often, he replied to all texts immediately, he was a super guy.
He came by the program site and took photos, he often called to check on the volunteers. He even brought us to his home one afternoon, to see an authentic coffee farm and to meet his Father, Lucky the dog, and his pregnant cow. It was refreshing and relaxing, please do this with future volunteers. He gave me encouragement, praise, and I felt I was really helping. No cons for him, really, I was more than pleased with his support. His English was good, I readily understood him and he offered to speak English or Spanish with us. He showed us the city and showed us what to order to eat. He brought us to the bus station, and was really helpful.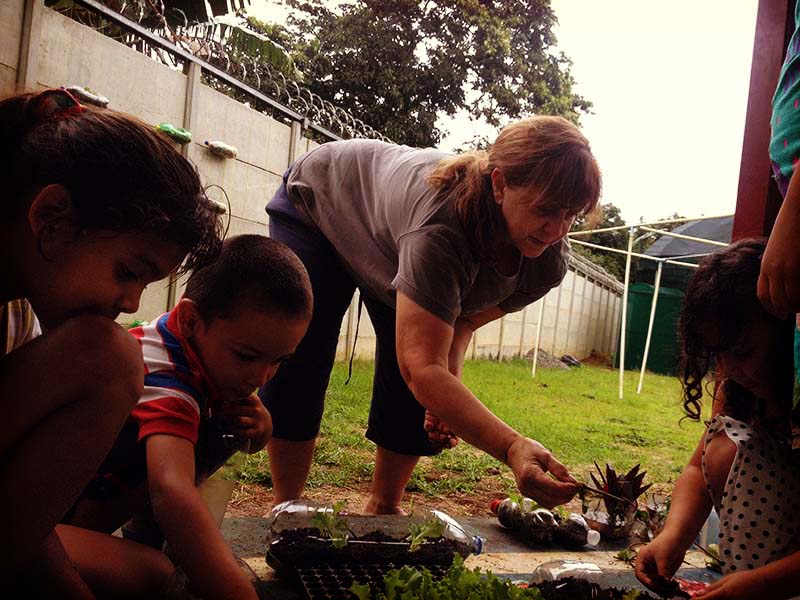 The Spanish lessons with Luis and Gaby were terrific. Please continue offering these. Even though I was so tired those nights, the lessons were really helpful. Luis goes out of his way to ask which words we need, he drew us a map of the neighborhood to find stores, the mall, and our dorm too! He was an effective teacher, I started with no knowledge and gained so much. I hope he knows he was appreciated. Gaby was great too – it was nice to have her one night. The lessons are well worth the time and effort. I got the map, learned to buy food and use the bus. Luis did more than teach us Spanish, he helped in many other ways, telling us information about the culture, and how to get places. One thought for the future – leave some Spanish words on the whiteboard for the next day to converse with Virginia and know what the foods are for lunch and supper.
The dorm was different, with 4 people/room but since there was only two females we were able to have more space. The beds are good, not great, the blanket was cozy, and maybe offering a second for those chilly nights would help? The water being turned off 1:00 – 4:00 daily was a concern, yet once I got the hang of it – I worked with it. It does conserve water which is a good practice. At the site this was an issue for the children to wash and clean the table and supplies, so we stored water for this use. The dorms had a shared shower and bathroom – which were clean and well maintained. Maybe offer another shower matt – so the first one dries may be helpful to future volunteers. My bedroom was rather dark, I wanted to open the curtain during the day to let sunshine in, and it worked fine.
Virginia was terrific, she cooked and shared stories with us. She is so nice, friendly, and helpful. She is a great cook and made a variety of foods, she made too much often.
The meals were great. I prefer vegetables; she gave us fresh vegetables and fruit, and snacks. All were really delicious. I did wish I had a coffee maker downstairs to use later in the afternoon. She sat with us during breakfast, talked with us, asked us questions, and cared what we were doing. I hope she knows how much she was appreciated.
The accommodations are good, not luxury but ok for most people. For the future, an idea would be to offer composting, or more ecofriendly actions – like washing dishes at one time, rinsing at one time, might be helpful. I did try to use the leftover food for the stray dogs and cats. I cut out a milk plastic jug and hung it on the gate. It worked too, dogs and cats came to eat. The animals are treated so warmly here, I loved that. Since I had way too much food to eat, I shared with other volunteers first, then shared with the dogs. I hope this continues in the future. And it might be good to have a table lamp to use, not to use the overhead always for light. Upstairs a wall clock is needed, I think one was there before? And of course, Wi-Fi should be up and down for all to use.
My program at the community center was excellent. If I had known they were open to me implementing lessons.
I would have done even more, brought supplies with me, more than stickers and rewards. Yet working with the plastic bottles showed the staff and children, they can use what they have right there – they don't need more supplies. They can recycle their own stuff. First we made spiders, a craft with the plastic bottles, then we made gift boxes with the bottles, trying to be more practical. Many children did both activities, and enjoyed it. After meeting the children and staff, I did understand better their developmental levels, attention spans, capabilities and interests. The third activity was to use the bottles to create planting wall near their butterfly garden.
We had seeds and lettuce plants, we used the bottles, the rich compost there, and the wall went up. Not sure if the waxed string will last long, it should. And lastly we used the bottles for small gardens for the children to take home. They each got seeds, lettuce plants, and instructions to grow their own salad foods. The staff was so warm, friendly, and considerate. I felt like I belonged there. They even shared their prayer time with me, this was special. They were so kind, helpful, and appreciative for my help – I felt like I did well. The last day was sad, saying goodbye to several children I had become close with, saying good bye to the other volunteers and the staff. I highly recommend uVolunteer  for future volunteers. If one wants, one can get engaged and really connect with people here. That is why I went to Costa Rica – to connect and feel like a part of their lives.
For future ideas to try:
Dorm – coffee pot, Wi-Fi upstairs, wall clock, more blankets during colder weather, more conservation actions like feeding dogs.
Spanish lessons – great continue them, thank you so much, leave words on white board for use the next day – this would help us practice, and continue having us know the map of the area, and our address too, phone number at the dorm too.
Make us try the dance lesson – maybe one night only – we should have done this!
Offer a traditional craft store visit, or for us to try to make a craft or decorations for the dorm (like curtains, or painting walls)
Have volunteers cook with Virginia one night, one recipe, have us cook together.
Have us visit dog pound or help animals more if we can
And remember to use Arcardio for taxi driver, he speaks English, was very helpful and cheap.
Thank you so much
Kathleen Hudson
My Trip Gallery