On my first Monday of volunteering, the special needs school was closed but the coordinators had made arrangements for me to go with two volunteers to the special needs school. This trip down to the town around the Community Center turned out to be fate, as I was introduced to a little girl who would later be diagnosed with autism. I had the privilege to work with this beautiful, intelligent girl in the afternoons over the next three weeks. The change that we were able to make together was remarkable. She blossomed from a shy, nonverbal, extremely noncompliant girl into an outgoing, verbal, social butterfly. She taught me so much about myself and solidified my desire to help children affected by autism in my professional career. The cherry on top came the Wednesday before I left, when we heard the news that she had been accepted into the special needs school and would be eligible to start immediately. It gave me hope that she will stand a fighting chance in a community that knows little about autism.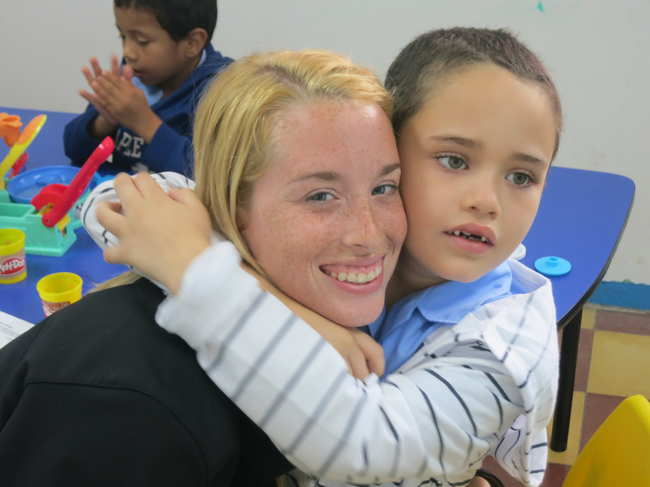 The special needs school in San Ramon was where I spent my mornings and early afternoons. I worked alongside the teachers and students, helping the teachers learn tactics and techniques to work with the difficult behaviors that are often associated with autism. These children stole my heart. They were young and intelligent, but held back by an education system that did not cater to their specialized skillsets. The teachers were so caring and open minded, qualities I really respected. Throughout my experience, there were things I saw that upset me, as I had to grapple with what it meant to have special needs in a developing country. Meanwhile, there were other things I saw that gave me hope for the future of those special kids.
When you leave, you wonder if the changes you helped make will be permanent once you are a memory.
I struggled with the knowledge that unfortunately the school will probably go back to its outdated protocols once I am gone, and that the kids will once again suffer from the lack of education on special needs by the school and the country. To try to ensure that some of my knowledge was left with the teachers, I took the time to translate an autism protocol procedure book that I had written to give to the schools, parents, and teachers. I also was able to leave some expensive resources in the form of weighted vests for the teachers to use in lieu of outdated restraints. These weighted vests will benefit this school so much. It is a material that they have needed for so long now, and I am so grateful that my family donated these vests on my behalf. The kids will have a better quality of life and be able to receive a better education with the help of these calming vests.
On my last day, after making sure the teachers knew how to use the vests, I said goodbye to the secretary, teachers, and students.
The teachers and students taught me so much about how to make the best of the life you are given and to seize every opportunity that life presents. I am so sad to leave and hope that I made a difference in the quality of life and education of these kids with special needs. They deserve so much more of my time, and I am sick that I am not able to give them any more of mine. I try to keep in mind that I will be able to help more once I am done with my doctoral education.
I took a picture with the school emblem and walked out, hopeful that I will return in the future.