As I write this I'm sitting overlooking the stunning beach at Montezuma – the sound of the waves crashing in is very relaxing – and of course so is the obligatory stubby of Imperial just with-in my reach!! I have just finished my 6 week volunteer placement in San Ramon, Costa Rica and am now enjoying some chillin' out time here before leaving this beautiful country.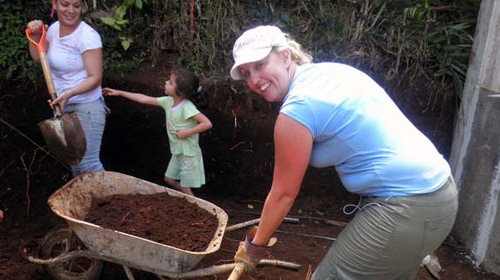 I have been to some amazing destinations during my time here. Costa Rica has gorgeous beaches, beautiful jungle-rainforest, cute & unusual wildlife, and very friendly people.
And that's the bonus of the volunteering life-style. It allows you to experience both the stunning holiday destinations and also by working Monday to Thursday, you become involved in the lives of local people and begin to understand their day to day life. It really is the way to experience the best of both travel worlds!!
I chose to sign up with uVolunteer because of the way they made me feel so welcome and I could tell from their emails how excited they were to meet me in San Ramon. I even received a phone call from the agency in San Ramon to discuss any questions I might have – even though I was on the other side of the world (& had to co-ordinate the time difference!!). From the outset I felt I was dealing with a professional agency because all my emails were answered promptly and always made me feel like there was never such a thing as a silly question. I began receiving paperwork right away outlining the process of the application and then as the time got closer, all of my arrival information. That immediately put me at ease as I admit I was a little skeptical about arriving in what I thought was a unsafe city. On the day of my arrival (which happened to be my birthday!!) I was met by Marianella at the San Jose airport and everything went so smoothly. We were taken by mini-van to the dorm in San Ramon where to my pleasant surprise Marianella had baked me a birthday cake!! The dorm is located in a good area of San Ramon – only about a 15 minute walk to the centre of town and the bus stations. I feel it is a very safe town and I have no problem walking around in the early evenings alone which I wasn't expecting to be able to do. The dorm itself is clean and because I arrived in the rainy season there was only a few other volunteers staying there so we all had a room to ourselves – bonus!! Isobel the "dorm mum" is adorable. She doesn't speak much English and I felt bad for her having to listen to my very bad Spanish every day!! But she did so with such enthusiasm and a big smile I couldn't help but continue to practice my new language on her!!
Our volunteer Marianella was also a constant source of information and she worked absolutely tirelessly to make sure we all had everything we needed and attended to our every detail – even accompanying us to the site on our first day of "work". My project was construction – I was helping build a house for a single Mum in the rural area of San Ramon.
I was very thankful I had a great crew of guys to work with – although I was surprised to find I wasn't working on a project solely driven by volunteers.
These were actual builders that needed extra help because certain projects on the site weren't included in the budget. The upside to this though was I working amongst the locals!! Most of them couldn't speak English but through broken English & Spanish (and of course the universal language of hand gestures!) we managed to communicate and have a lot of fun. My tasks for the duration of my time was to firstly dig a huge hole that was to become the septic tank (certainly a sense of achievement felt when that was finished!!) and then to shovel a lot more dirt around to level out the back yard. Admittedly I was hoping to have a lot more involvement in the actual house building and to fulfill a variety of tasks but I had become the pala (shovel) queen and that became my sole duty!!
And now my 6 weeks is over I feel that I have got to know a Costa Rica that I probably wouldn't have experienced without getting into the day to day lives of working Costa Rican's. And now it's time for another cerveza!!
My Trip Gallery