2 months ago, I was sitting at my desk in a big bank in London working too many hours and feeling unfulfilled. It was right then I decided to make the journey back home to Australia via Central and South America. While in Central America, I wanted to give something back to the community, get outdoors and immerse myself in a new culture. The UVolunteer program enabled me to achieve these goals and so much more.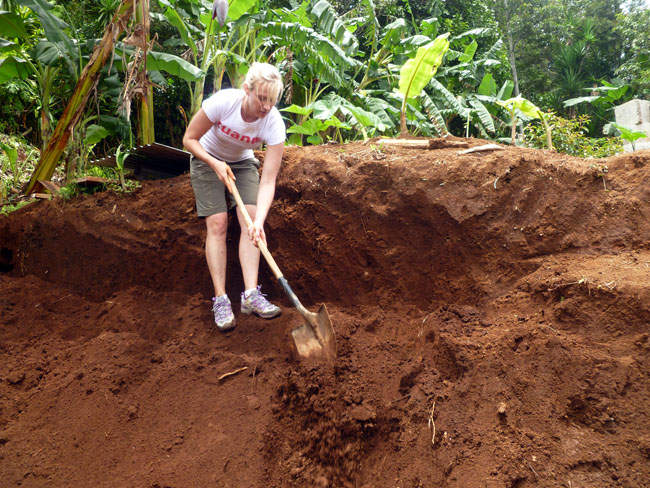 Having done some research on volunteer programs (and there are a lot out there), uVolunteer seemed to be the most professional of the lot and they offered a construction project that enabled me to volunteer for any amount of time. I decided on committing 2 weeks so packed my bags and started on my adventure. Having spoken to the most helpful coordination team, Ligia and Alicia, before my arrival, I knew I'd be in good hands.
From the moment I arrived in San Jose, Costa Rica, Ligia was there waiting for me and was so welcoming it put whatever reservations I still had at ease.
We made the short journey from the airport to the dorm in San Ramon which was my home away from home for the next 2 weeks.
Throughout that time, I helped to construct a new home for a well-deserved family – who I was lucky enough to meet. The work was physically hard but it was the exact opposite of sitting in an office and exactly what I was after. It would've been helpful if my Spanish was a little better than it is however the guys on site are so helpful and it wasn't too difficult to pick things up after the first day.
Throughout the 2 weeks, the team also involved me in dance classes, community English classes, the festival of San Ramon and everything else Costa Rican. Amazing! It was also wonderful to wake up every morning to a cooked breakfast and come home to a traditional Costa Rican meal each night, cooked by the lovely Dona isabel who takes care of all of the volunteers in the dorm. When it arrived at the weekends, it was easy to jump on a bus and check out the other remarkable places in Costa Rica and the team will help you organise it all. Perfect!
At the end of my 2 weeks, I can definitively say now that I'm exhausted and exhilarated and would recommend everyone takes the time out once in a while to do something different, meet new friends, experience a new culture and feel like you're giving something back at the same time.
I will miss you all.
Thanks for making this a special time in my life that I will treasure forever. Mi casa su casa anytime!
Pura Vida!