Saturday's orientation provided useful cultural information and helped me to navigate through the busy town of Koforidua. Every sight and smell was a new experience for me; the community was welcoming and made me feel right at home.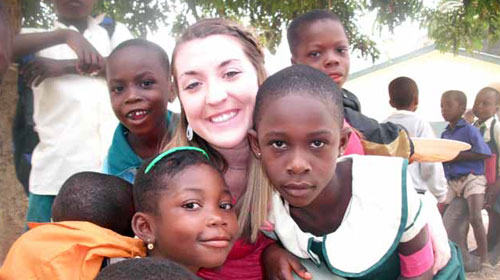 On Monday I met the amazing children of the Orphanage. Their smiles and kindness exceeded my expectations. Brenda, one of the volunteers, introduced me to the volunteer room filled with medical supplies. I quickly learned to nurse a wound and care for the children. The rest of the week went by quickly; I kept busy teaching the third grade class lessons. Each day we reviewed math, English, and science. Teaching this class has been the most rewarding experience. My students greeted me each morning without a complaint, eager to learn.
I spent the following weekend in Accra. My roommate Katie and I took a tro-tro ride into the capital on Friday. We dined at a beautiful outdoor restaurant and toured the city. We had a chance to see the Nyame Memorial, Independence Square, and the local beaches. On Saturday we walked through the Art Center and local markets. My African mask will be proudly hung on my wall when I get back to the United States. The fun continued on Sunday. Fred, Annette, Katie, and I hiked to Akaa falls and had lunch on top of Umbrella Rock. The scenery was breath taking. It was great to get away from town and experience the outdoors.
My final week at the orphanage was better than the first. I formed close bonds with the children and took in each moment with them. I was the assigned teacher, but I found that my students taught me just as much each day. I purchased a pencil and sharpener for each of my students because I noticed their lack of supplies. This small gift made their day and mine.
On Saturday, January 27th, we ventured to Shia Hills Resource Reserve. Our tour guide had a gift. After meeting the ostriches, we went deeper into the reserve in hopes of seeing the baboons. Within a few minutes several baboons emerged from the forest. We feed them bread and learned interested facts about the group dynamic. The lands of the reserve are beautiful; I highly recommend taking this trip.