It was a great way to begin the trip, as there were other Spanish beginners like me, but also more affluent students to help out around town as well. It gave me people to interact with after classes and gain perspectives and insights. My week there went quickly, and I could have definitely benefited from more time, but it helped me quite a bit I think.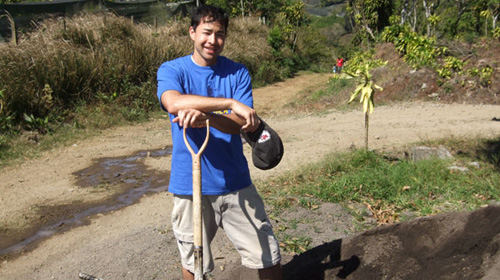 My volunteer work in San Ramon was to help construct a house.
I worked with a great group of guys there, a small family run operation of the contractor and his two sons.
They did not speak much English, and my Spanish was definitely beginner level, but we got along well and somehow managed to converse and joke around all day. They do watch a lot of American tv, so that helped. Basically everything was manual labor, the only equipment we used really was a small cement mixer. While it was hard work, it was also in a beautiful landscape and fun atmosphere that I looked forward to going to each day of my stay. A definite change from the office setting I was used to.
The schedule for this project was perfect for me, roughly 8-3 Monday-Thursday, which left time to travel on weekends.
San Ramon was also a great location to be based from, as the weather in the valley was always pleasant, the city was easy to navigate, generally seemed very safe, and it is fairly centrally located so you can travel to many different places in decent time, especially given the inexpensive bus system.
All in all, I am really happy with the experience, and if anything, I could have stayed a bit longer and seen a few more places. The homestay environments in both San Jose and San Ramon were great, and gave a unique experience to the trip. This was my first trip volunteering overseas, and I was very pleased with the uVolunteer program. For anyone that is going to Costa Rica, this is a great way to do it!