Staying here changed my whole perspective on travelling. Most people who travel to Thailand overlook the Isaan region, for it's lack of tourist sites. But for myself, it is the true face of Thailand. Whilst slowly devouring my favourite Cappaccino Ice Cream at the riverside Milk Cafe, I remember the scores of children playing fun and games in the late afternoon sun, monks in their rich orange robes gathering in the temple courtyard, and locals finishing their daily duties, getting ready for the most important meal of the day. I spent most of my afternoons by that riverside cafe, watching the world go by, enjoying an occasional conversation with a curious Thai, while the crimson sun set descended beautifully over the peaceful town and the winding river.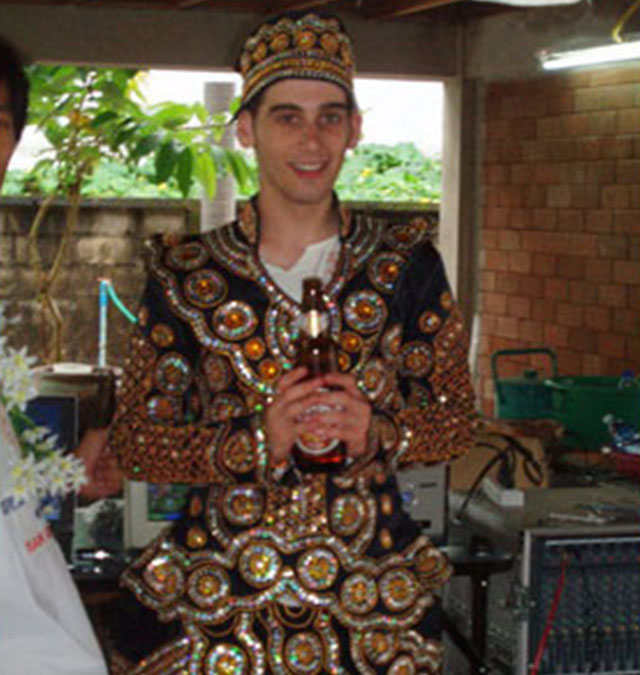 By day, I was an assistant teacher at the local secondary school. Here, I would help Ajan (Teacher) Phusita in class, in a number of ways such as pronunucation, grammar and spelling.
Again my role went beyond that, as gradually I realised that all of the above were secondary. The students wanted to know more about myself and the culture that I represented. Furthermore, many seemed to be very interested on my thoughts of Thai culture. Hence, teaching in Phonphisai enabled the opportunity for myself as a teacher, and the students, to teach English through the means of sharing both cultures. The phrase 'time of your life' is used too easily in this day in age. I do believe that my stay with Jack, and his family in Phonphisai, was the best time of my life. I discovered so much about the world and myself. Yet, there seems tobe something in my heart which urges me to return there one day in the future to rediscover the adventurous Joe, and to rekindle the friendships which I forged. The true Thailand awaits to those who are adventurous enough to seek it.
My Trip Gallery