Where do I begin? First of all when I flew into San Jose and met Ligia at the airport for the first time I was amazed at how comfortable she immediately made me feel to be in her country. I had learned Spanish 35 years prior and had not practiced any of my language skills until I arrived in Costa Rica. I quickly remembered a lot of it and meshed well with Ligia, the driver, Dona Isabel and a few of their friends. Instant family !! Even though I was the only volunteer staying in the dorm I never really felt alone because of Isabel and Ligia always visiting. The first day in San Ramon was cool. Ligia the coordinator showed me all around town. I learned where the bank was, doctor, church, grocery stores,and bus stations and taxis. San Ramon is so pretty and comfortably safe.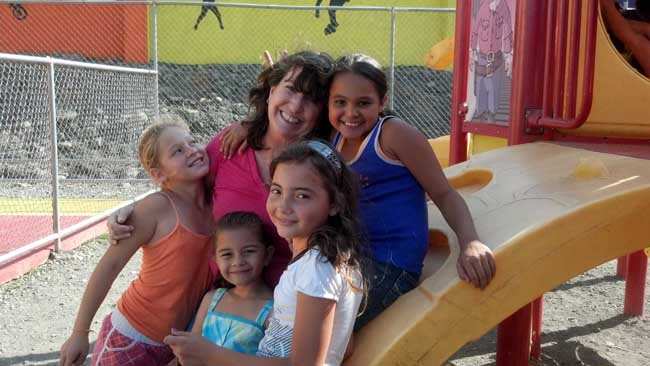 My adventures volunteering with the children in the Community Education Project was perfect for me. Everyone working there accepts you and everyone else around them with open arms. The children are happy all of the time no matter what their life circumstances entail.
I have had so many rewarding adventures everyday since I have been here on this project.
I would not dream of going to any other country when the people here in this country and on this project as well are the nicest in the world !! .
My first adventure was a fun coffee tour in Naranjo . I learned a lot about how they make coffee here in Costa Rica. The tour guide was very funny and let us pick our own coffee beans . An awesome adventure was a white water rafting trip for two days in the jungle. I learned so much about the jungle, the animals and the people that live there. I went ziplining and hiking to waterfalls and learned about so many plants. The coolest part was hearing the monkeys and the toucans at night. There are so many out door activities to do in Costa Rica.
My first day working with uVolunteer made me know that here in San Ramon is where I really need to be .
I have a purpose in life to help those in need and this project and the people working with it make it all possible. I would not even dream of volunteering with any other company when I have a family here with them. I want to spend a lot more time here on the next trip with uVolunteer.
Outside of the organization Ligia and her friends will do anything they can to make you comfortable and arrange anything you want to do here in their country. Just ask and everyone will help !! I believe uVolunteer is so rewarding and the people and culture in Costa Rica are absolutely AMAZING !!! Spanish is a wonderful language and Costa Rica is the best place to use it. I am having so much fun on this Community Education Project that I am making a plan to return as soon as possible. Costa Rica , La Pura Vida !