Because their English is mainly limited to "Good moooorning teeeaaacher, how aaaare you?", but I've absolutely had a great time at that school! The kids are really eager to learn everything you tell them, so if you prepare some good lessons, you can really expand their vocab and understanding by a thousand per cent.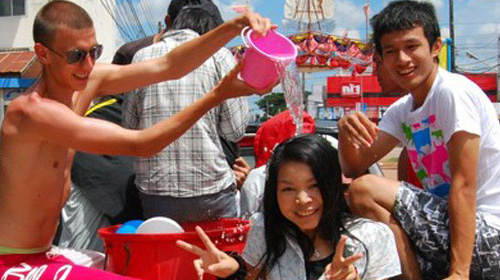 After school, Jack took us to see many things: We went to see the sunset on the Mekong in the boat of a fisherman, we saw an Isan pottery maker (and they let us make one ourselves, no great success!), we saw the market of Lao coming over the river to sell their goods at the side of the Mekong, we went to a village celebration (one of the funniest things I've ever done!) , Jack took us to his master, a monk in the mountains of Loei, for two days… and many many more things. If you want to really get to know Isan and its people, Isan is the best place to stay!
After two weeks, the two Dutch girls continued their journey through Thailand and I remained in Jack's house 'alone'. I was afraid that it would be not as much fun as it was with them, but that turned out to be not true at all! Isan is just never boring.
Two weeks later again, I stopped teaching at Dungkhampee school and went to Chumphol Phonphisai, the highschool of Phon Phisai. That was really one of the best things that ever happened to me! I've had so much fun with the teacher (Ajahn Yu) and especially with the students (many of them were my age). Thanks to Chumphol, I let many tears when it was time to leave Phonphisai. Thanks to Chumphol, I've got many friends in Thailand.
Leaving Phonphisai was really hard for me, having to leave Jack and his lovely family behind, leaving Chumphol and my friends behind, it made me realize I was actually leaving home. I'm going back there in a month to celebrate Songkran and, although I just left this morning, I just can't wait until April… to go back to my second home.
My Trip Gallery