After some quick research it seemed uVolunteer had everything I was
looking for. I decided to spend a month teaching English in San Ramon. It
turned out to be the best decision I could have made. From arrival I was
greeted with genuine warmth from Ligia and Nohelia who took me to the
accommodation. The first weekend of arrival they showed me the town and
anything that I could need to find. The whole month these two lovely girls
were always on hand to keep me updated and were always in contact to make
sure I was getting the most out of this experience. Or even to help take me
get stitches after surfing accidents.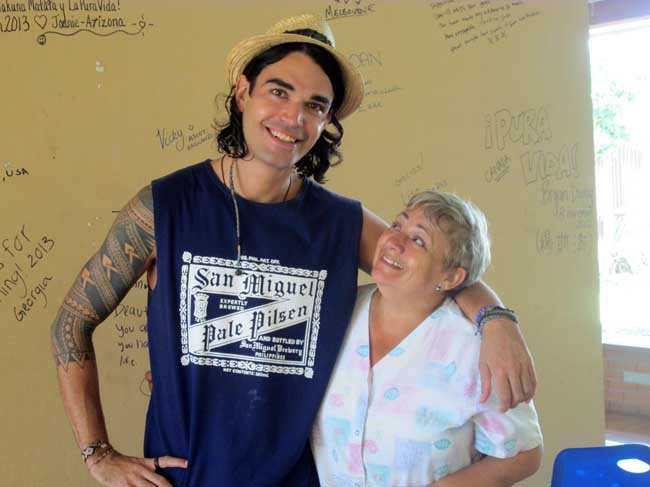 The dorm or massive 2 storey house I lived at had 1st class facilities.
After 2 months of backpacking in hostels it was welcome relief to live at a
chilled out place with plenty of spaces, not to mention clean warm showers.
I even managed a 2 bed dorm room to myself for a month.
There were several nationalities staying in the dorms all from different places which gave the
place great personality.
There was plenty of time to get to know each otherat dinner each night.
Helping at several schools over the month I found every child excited to
be there, much different to my home in Australia. Having a volunteer from
overseas was also very exciting for them as they got to hear stories about
places they never heard of. The kids were all motivated to learn and some
definitely surprised me how well they could speak English. Some nights a
week we worked on English classes for adults. This was more conversational
than teaching and many laughs. This was a great way to meet locals, even
getting the chance to play in their local indoor soccer matches.
My only concern was my little progress in learning Spanish before arrival.
The mentor teachers I was helping were always there to help translate to
students when needed. And more than helpful in assisting me learn this new
language. I could not speak highly enough of the mentors that gave me
opportunity to try anything with the class or help show me what works.
The program in San Ramon is ideal as a base to explore the coasts of Costa
Rica each weekend. Having Friday's off meant plenty of time for travel. A
cheap bus would take me to any part of Costa Rica coastline in a day.
Ligia was always there to help give me the best route of transport to where
I was planning to go. Every weekend was a new adventure and during the week
I could be useful and have fun in a completely different environment.
I would love to come back and volunteer again. I can definitely say I have
made friends that will last a long time.
It was a pleasure being brought into their volunteer family and made to feel
valued and special. Special thanks to Dona Isabel who was our resident mum
having fantastic meals always waiting for us.
Best regards to everyone and many memories,
My Trip Gallery