My project was Teaching English. However, the week I arrived the schools were on holiday, so I volunteered at a dog shelter, in the mountains of Piedades Sur, run by an incredible woman named Helene. We helped her to look after 90 dogs, gave them love and attention, and named puppies (after 2 of the volunteers- Moritz and Cian!) The cause is so worthy; it is evident when you walk past hundreds of stray dogs in San Ramon that Helene's dogs are so lucky. One of her neighbors took us on a horseback ride that week, which was a wonderful tour of the mountains, and just a taste of the natural beauty of Costa Rica.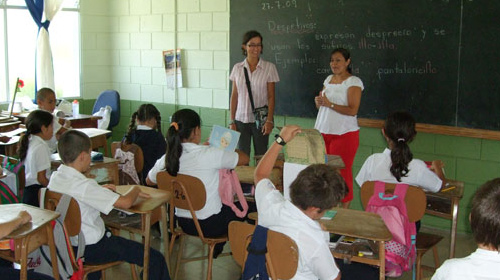 The following week, schools were closed due to swine flu. I was becoming anxious that I would never begin my intended project, but also grateful to have the opportunity to help elsewhere. I went to an orphanage in Palmares with a group of about 7 of us to paint a mural on one of the bare walls in the garden. It was so much fun to test our 'artistic' skills, and also to spend time with the children. They were well-behaved and wanted a lot of attention and love to listen and dance to Michael Jackson with Jeremy, especially!
Finally, on my 3rd week in Costa Rica, I began my project at La Sabana School. The school is relatively good, the teachers are able, but the English classes need a lot of help. The teacher I was teaching with, Ilena, was brilliant, but needed me to really work with about 1/3 of each class of 30 who were struggling. Many of them were really astounded to hear a native English speaker, despite being initially confused about my British accent. Over the 3 weeks, I helped teach around 6 classes, from 8:30- 3pm (with a lunch break). The children began to use my help as much as possible, and I really began to contribute the most during my final week, just before Ilena was due to go on maternity leave.
I became attached to the children, and received goodbye gifts, which was so touching and rewarding!
I feel like the biggest difference I have made is encouraging some of the previously non-responsive and academically- behind children to really be excited about, and want to learn, English.
I did not expect to have the opportunity to travel around Costa Rica so much. Every weekend, from Thursday to Sunday, I travelled with some incredible groups of people, and together we got to know and understand Costa Rica more, and have fun breaks from our work. I went to Montezuma, Monte Verde, and La Fortuna, Manuel Antonio, and Puerto Viejo. I would recommend all of them as being incredible in different ways. Puerto Viejo for fun, Caribbean style, gorgeous beaches; Montezuma for beautiful hand-made jewelry, crafts, and sandy beaches enclosed by bright green trees; Monte Verde and La Fortuna for the Arenal Volcano, zip-lining over a cloud forest (one of my highlights of my time here) and the Baldi Hot Springs; Manuel Antonio for the national park full of sloths, deer, monkeys, raccoons and beautiful secluded beaches (but, BEWARE of high tides- we almost lost all our belongings, inc' Brittnee' dress and got thrown into the rocks where a wave engulfed us!)
I really didn't mean to leave on that bad note, but it just made the experience in Costa Rica all the more exciting, enjoyable and emotional.
I will miss Ticos; they are the epitome of Pura Vida, and they should all be proud to live in such an amazing country.
Every volunteer I've met here had made a huge difference to the community, and has also gained an incredible experience. I would love to return; 5 weeks was not enough for me!
My Trip Gallery