My experience in Ghana is definitely one that I will never forget, it has taught me so much, and helped me grow as a person. I have wanted to travel to Africa pretty much my whole life, and figured what better way to do it than to do whatever I can to help out a country in need so I decided that a volunteer trip was best for me. I researched a few different volunteer agencies, and uVolunteer was the most cost effective, and the staff was the quickest to respond to my inquiries.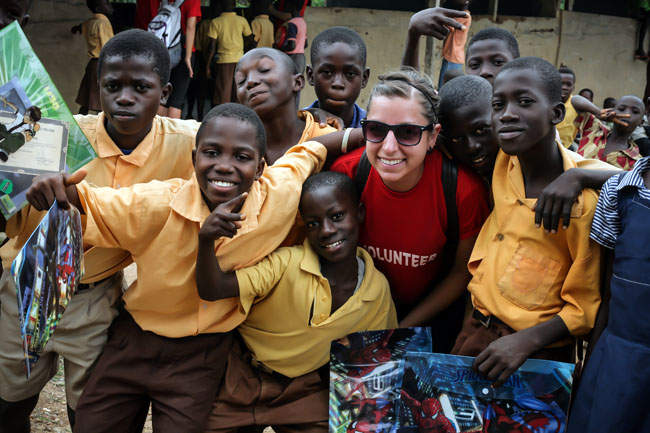 I arrived a day early, so I spent the night at a hotel in Accra, and then the volunteer coordinator, Annette, picked me up right from my hotel the following day. When I arrived at the dorm I met the four other volunteers and our cook, Naomi (who cooked the BEST Ghanaian meals for us every day!). Everyone was very welcoming! I was very happy with the how clean and comfortable our living area was. We spent that weekend doing orientation, touring Koforidua, and learning bits of the language and way of life of Ghanaians. Annette was very helpful in all of this, and answered all of the questions that we had (and there were a lot!). We also went to Boti Falls that weekend, which is such a beautiful hike.
I spent the next two weeks doing English/Sports Camps. We would teach English to children in the mornings, and then spend the afternoons doing games, activities, and sports. The highlight of this for me was the big football game of students against volunteers. The kids here are REALLY good, so we obviously lost, but it was such a fun game. The English portion of these camps was very rewarding. I felt proud of my students and myself at the end of each week.
Even though I'm not a teacher, I felt that the children learned a lot from me and truly appreciated my presence.
We spent a weekend at Mole National Resort, which was probably one of my favourite places I've ever been in the world. We stayed right in the park. The first morning we walked out of our front door, and there was a warthog, right there in the yard! It only got better from there. We did two safaris that day and saw so many elephants, warthogs, monkeys, antelope, and water buck. It was definitely worth the LONG, bumpy trotro ride. On the way back we stopped at a monkey sanctuary, which was amazing! The monkeys were so tame, and would come right up and eat out of our hands. We then spent one night in Kumasi near a big, beautiful lake.
We spent the next weekend in Cape Coast. It's such a cute city! We toured Cape Coast Castle and went on a canopy walk at Kakum. We spent the night at Hans Cottage Botel, which is a nice place with nightly live music and it's right on a small lake that's filled with crocodiles! uVolunteer made it so easy for us to do all of these weekend travels throughout the country. They organized it all for us, and always took into consideration what we wanted to do. We were all involved in the decision making process to ensure that we had an amazing time.
Between my second and third week, all of the other volunteers finished their time in Ghana and flew home, so my last week was spent without any fellow volunteers. I definitely missed them, but Annette was so great in keeping me company and was always there when I needed her!
We went to Accra one day to spend some time at Labadi Beach, which was absolutely beautiful, although I didn't wear quite enough sunscreen and got a burn!
I spent my last two weeks volunteering at the Orphanage in Koforidua. I absolutely fell in love with all of the children there! We did something different every day. Some days were arts and crafts, one day we had a paper airplane competition, one day we played football, one day I helped them learn the alphabet and numbers, one day we created a large banner for the orphanage. Each day was something new and amazing. It's so inspiring to see how happy the orphans are with the little that they have. I think that they have positively influenced my life just as much or even more than I have influenced theirs! The hardest part was having to say goodbye to them at the end of it all!
My Trip Gallery