I arrived under the impression that I would be working in an orphange. Unfortunately, that did not work out. Alternatively, I was placed in a pre-school. Two days a week I worked with the english teacher.She was extremely kind and very appreciative of the extra help and knowledge. I loved working with the kids. They are very warm and kind hearted. It was a pleasure to see their smiling faces every morning and hearing their excited voices yelling 'Teacher! Teacher!!. As the weeks passed it was great to see the students become more comfortable using English. It was a great feeling when a student ran up to ask 'Que color es?' or to proudly show off how high they could count in english. The days I did not work with the english teacher, I played with the students and interacted with them in english and spanish.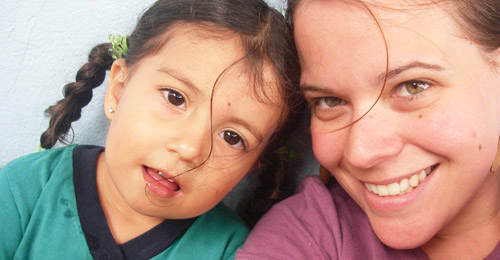 For several weeks I taught english classes for adults at night. They were very eager to learn and I looked forward to going every night.
On weekends I took trips with other volunteers. We went to La Fortuna, Samara, Monte Verde and Jaco. We went canonyeering, ziplining, saw volcano arenal erupt and went to the beach. Everywhere we went we were greeted with warm smiles and many questions.
Costa Rica had a lot of firsts for me. There were ups and downs but if I did it again, I wouldn't change a thing.
My Trip Gallery