My journey to Ghana started with a grueling 24 hours of air travel before I set foot in the African continent, as I embarked on this journey from Vancouver Canada. Exhausted and anxious, I found relief immediately after finishing with Ghanaian customs agents as I saw a sign with my name held by what I learned was one of my volunteer coordinators during my stay in Ghana. Unlike other volunteers though, I came partly knowing what to expect, especially since I grew up in northern Africa not too far away from Ghana. There was however a very brief period of cultural shock as its been 13 years since I last stepped foot in the African continent. After a day of horrible jetlag I found myself immersed in all aspects of Ghanaian culture, especially after a very informative orientation on my second day there.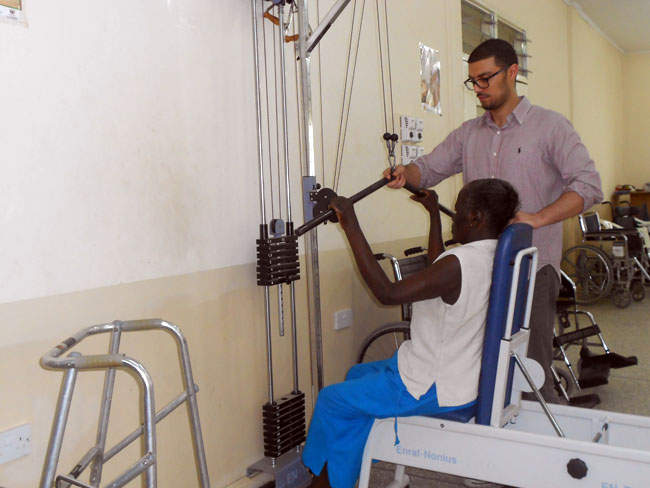 The purpose of my trip initially was to gain experience in international medicine, because as an aspiring doctor, I would like to do humanitarian medical volunteering in the future. I started my project at the central hospital on the first Monday I was there, where I volunteered at the physiotherapy and pediatrics departments. The doctors gave me a very warming reception and I began contributing to these departments from the first time I volunteered. As a recent graduate of Kinesiology and as a research student in spinal cord injury I found that there was a lot of contribute to the physiotherapy department. Firstly, I updated the doctor with the most recent research findings on clinical exercise rehab of chronic diseases such as heart failure, stroke, spinal cord injury and much more. Secondly I helped revamp the protocol for rehab of stroke patients by creating stations in the gymnasium where patients can move from one station to another after finishing each exercise, comprising of a circuit.
The highlight of my contributions however, was making a wheelchair accessible exercise bicycle using an old regular upright exercise bicycle.
Within a week of my volunteer project I realized that there is a major lack of equipment (as most were donated) and I realized they have many spinal cord injury patients but not the equipment to help them recover.
Such equipment is not sold here and it would be too expensive (less than 1000$) anyway so I took it upon myself to design a bike especially for spinal cord injury patients, which is wheelchair accessible, using an old non-functional regular exercise bike. It works so that a patient with upper body control can use the hand pedals and the motion transfers to the leg pedals and moves the legs in a cycling pattern even though they have no control of their legs. It is also made so that the seat can easily be put back on and it can be a functioning upright bike once again. Oh and it only cost about 40$ to make the conversion. The doctor was very happy as he has a new very useful option for many patients, especially spinal cord injury and stroke patients that spend most of their time in wheelchairs. Even though my main volunteer work was in the hospital, it didn't stop me from contributing elsewhere.
I'm fortunate to have had volunteer coordinators that also took me to different volunteer projects like the orphanage. There I got to spend time and play with children of all ages. By the third week of my stay I became so engaged in my volunteer projects that I began fundraising money through my friends back in Canada so I can buy some very necessary things for both the orphanage and a community school.
For the orphanage, I ended up buying children toys, sneakers, slippers, a big whiteboard and a couple other things.
For the community school, I bought many school supplies including lined paper books, pens, picture books, pencils and folders. More importantly, I bought them very much needed chair/desk combos, as most of their classrooms were empty with no chairs to sit on or desks to write on. Finally, for each of the orphanage and community school, I bought them big tanks for clean water storage because I thought it would be very useful. I was very humbled and I was happy to be in a position where I can make a lasting difference during my stay in Ghana.
Apart from my volunteer projects, the volunteer coordinators took me out to many places in town. Also, the fact that we had internet access at our dorm was very useful for keeping in touch with family and friends back home. Overall it's safe to say, I had the best time of my life in those 5 weeks I stayed in Ghana, and I will definitely be back one day.
My Trip Gallery