What a journey it has been. Seven weeks in Costa Rica and probably one of the most difficult tasks I have had to face so far is expressing on paper how amazing this experience has been, however, I will do my best and I guess the best place to start is at the beginning with the decision to take this challenge on.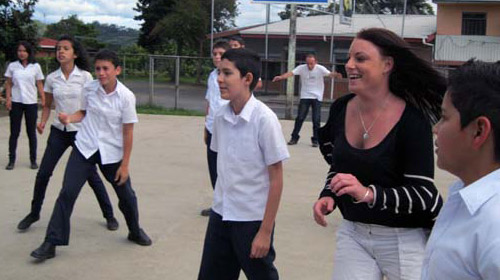 Undoubtedly as a solo female traveller it's not an easy decision to make to come to a foreign country where Spanish is the primary language. Communication barriers, safety and not knowing anyone were among my largest fears. However, the determination to come to Costa Rica and at the same time volunteer some of my time to the people here far outweighed those fears so I booked my flight and there was no looking back.
Being a solo traveller I was looking for an organisation that would ensure I was well looked after. I deemed it essential to learn some Spanish as it's vital to be able to communicate in your project and just in general day to day life. uVolunteer offered Spanish school which was ideal for this need. They also picked me up from the airport and delivered me straight to my homestay which was perfect because the thought of having to direct a taxi driver not knowing any Spanish and in a country where street names don't exist was daunting to say the least!
Staying with a Costa Rican family is both a great way to learn about the culture and the language. My family didn't speak a word of English so from day one I was forced to learn Spanish and fast!
Admittedly, the first few days weren't easy. Not being able to communicate effectively was frustrating and I often felt lonely. This didn't last long though. After a few days at Spanish school I was going home and practicing with my family. One of my most prised memories is of us sitting at the dining room table conversing over Google translate and a small phrase book. I also made a few friends at school which was nice because it meant I had people to go away with in the weekend and hang out with after school. This also curbed the loneliness.
The teachers at the school were great. They felt more like friends than teachers. I'm shocked at how much I managed to learn in such a short amount of time. This is largely attributed to the learning techniques they use. The classes were a lot of fun and it didn't feel anything like being at school. I looked forward to going to class each day and now have a real passion for learning Spanish.
After three weeks in Spanish school and with my homestay I was ready to begin my project. My project was teaching physical education in a small school in San Ramon. I got picked up from Spanish School on my last day by Nella, the uVolunteer co-ordinator who is a bubbly, enthusiastic, friendly and helpful person. It was really comforting having someone like her that I could call on if I had any problems and meeting her immediately put any doubts I had about leaving the comfort of my homestay and starting a new chapter of my trip at rest.
Upon arrival at the dorm I immediately felt at home. The uVolunteer dorm is more like a house than a dorm.
I met the other volunteers who were all like-minded people so it was easy to get on with everyone. Dona Isobel is the dorm mother who cooks breakfast and dinner. She is lovely and cooks delicious food most of which is local cuisine so it was great getting to try new foods that I wouldn't otherwise get in New Zealand.
I was nervous about starting my project. On the first day Nella took me – that was good because it eased me into it. I was working alongside the Physical Education teacher – Katia, who was an enthusiastic sportsperson like me. We got along really well and had forged a friendship by the end of my time at the school. The kids love playing sport, especially "futbol" as it is a huge craze in Costa Rica. It was a lot of fun playing sport with the children every day and teaching them new sports and games such as Netball which they had never played before. It was also a great way to practice my Spanish. The children would ask me how to say words in English and I'd ask them how to say things in Spanish. I now have an extensive Spanish sports vocabulary!
I also had the opportunity to work on other projects which is another great aspect of uVolunteer. The flexibility to try new things adds a whole new dimension to the overall experience. I worked painting a community centre, teaching an English class at the local University, visiting another school and working in a community education project. I learnt so much from trying all these activities and the best part about it was making new Tico friends.
In the weekends I was able to travel around the country with the other volunteers which was a great feature of the project.
You're not required to work in the weekends and sometimes even Fridays which allows you to see some amazing sights during your time off.
I went to Monte Verde, Puerto Viejo, Montezuma and Manuel Antonio. Costa Rica has so many great sights to see most of which are breathtakingly beautiful.
I am now coming to the end of my project and I can honestly say that my experience has been second to none. I have been completely put out of my comfort zone and immersed myself in a culture which is totally different to my own and I have loved every second of it! I would definitely recommend taking on the challenge to pursue volunteer work in a foreign country to anyone. It opens your eyes to a whole new world – I have made lifelong friends, learnt a new language, immersed myself in a different culture, travelled around a great country and on top of all of that I have had the opportunity to lend a hand to people through volunteer work!
If you want to live the dream this is the way to do it! Pura Vida! xx
My Trip Gallery