I guess I will start out by saying that this has been an amazing experience and I have no regrets in doing it. I knew I wanted to travel to Costa Rica but I've never traveled alone and couldn't convince any of my friends to do it. I found uVolunteer when researching programs online and liked this one because of the dorm option, the location, the price, and the fact that I could volunteer at an orphanage, something I have always wanted to do.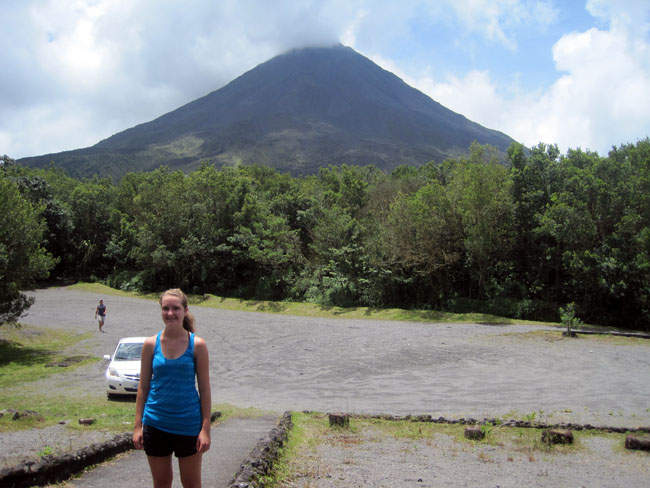 The arrival here was better than I could have hoped for. The flight was easy and I didn't have any trouble even though it was my first time flying alone. Ligia picked me up right when I walked out of the airport, and I was thrilled that someone so sweet and who could speak English was there during my first hours in the country. I guess this is a good time to mention the staff.Ligia works so hard to make sure that everyone's experience is the best that it can be. She is able to translate for us, show us the best places in town, and give us advice about traveling anywhere in Costa Rica. I don't know what I would have done without her! I hurt my foot while I was here and Ligia made me an appointment at the local clinic and walked me through the whole process. It's scary to be hurt in a different country but she made it just a small road bump and I really appreciate that.
Alicia was also great, working really hard to make sure we enjoyed our stay and helping me deal with the insurance company (which wasn't hard at all). Dona Isabelle, our dorm mom, was such a pleasant person to have around the house. Her food has been delicious and I wake up every morning excited about breakfast and spend the whole day thinking about what will be served for dinner! I love hearing her blender go off twice a day because I know that it means that one of her fresh fruit juices will be ready in minutes! She was also a great person to practice my Spanish with and just spend time chatting.
The dorm was also fantastic. It was very clean (thanks to Dona Isabelle) and comfortable and it has been really nice to have wifi to stay connected to home. The hammocks outside provided hours of entertainment after a long day and the beds are really comfortable. Unfortunately while I was here there weren't many other volunteers (2 others for one week and one other for another week) but we managed to have fun despite the lack of excitement in the dorm.
Some of my best memories here have been on my weekend trips. My first weekend we went on a day trip to Volcano Arenal and Baldi Hot Springs. If you are short on time, I would recommend skipping Arenal.
It was cool but there were definitely more exciting things I would have rather done. But whatever I did, the bus rides to the destinations have been some of my favorite times. I love looking out the window and watching the beautiful country go by as well as chatting with interesting locals sitting next to me. The next weekend we went to Samara, a really cute beach town.
We stayed in Casa Brian- the best hostel I could imagine for my first hostel experience. The beach was seconds away and we spent the weekend relaxing and hanging out in the little town. The next weekend I went alone to Monteverde. I highly recommend this if you are traveling alone, as it felt very safe and I met many other travelers from all over the world. I went ziplining, to a butterfly garden, and on a night hike, which were all fantastic.
While I was here I also helped teach an English class to local adults at night. This was one of my favorite activities because it was fun to be on the other side of learning a language and to get to know the students.
And the orphanage, the main reason I came! I have to say it was probably one of the most difficult things I've done. I was at a new orphanage that doesn't really have enough caretakers (called Tias) for all of the kids, and it showed. Every day was exhausting as I entertained at least 8 kids at a time for hours or helped the Tias clean and cook. However, I have become so attached to these little kids and have absolutely loved getting to know each one individually.
My Spanish has improved tremendously just speaking with the older kids and with the Tias and I feel like I have made at least a small difference in their lives. While some moments were hard, the way they would run up to me to greet me at the beginning of the day and the way they would laugh when I played ball with them totally made up for the other times. I came to Costa Rica thinking my Spanish was ok, but quickly learned that if you're not almost completely fluent that it is very hard to understand the Tias and the kids.
So overall, this was a fantastic experience and I'm so glad I did it.
My Trip Gallery