On the 17th of January 2013, myself, Annie, Clarissa and Helen made the long journey from Birmingham, UK, to San Jose in Costa Rica. We were very excited about spending two weeks in Turtle camp as we had done some research on the town and it looked very pretty. However, we were also quite nervous as we did not know what to expect.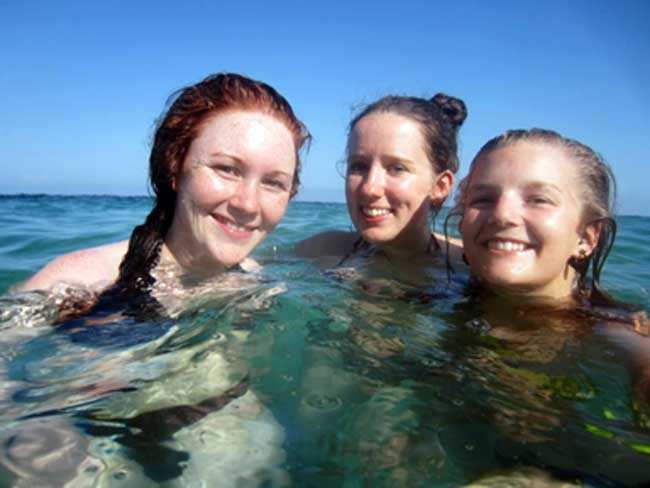 We spent one night at a hotel near San Jose airport as we arrived very late the night before. The next day, we met our uVolunteer representative Ligia at the airport. Ligia was very welcoming, friendly and was very keen to tell us all about Costa Rica. We drove from the airport to San Ramon, where we spent a night in the uVolunteer dormitory. Ligia took us on a walk around San Ramon and took us to buy ice cream. During our time at the dormitory, she showed us a presentation of what we were going to be doing over the next two weeks. This presentation was full of information and made us a little bit more relaxed as we knew a bit more about the project and what to expect on arrival in the turtle camp.
The next morning, we had to get a very early bus from San Ramon to the turtle camp. The overall journey took about 5 hours. Ligia was at the bus stop with us to make sure we all got on the correct bus!
The bus was very hot and busy but the scenery was fantastic and it was nice to see different areas in Costa Rica. The bus eventually arrived in a town called Cobano and there was some confusion as we did not realise we needed to get off this bus and on to another one which took us down to the turtle camp.
After another 20 minute journey, we arrived in the turtle camp. We had to ask the local people where the escuela (school) was as our house was next to here. We eventually found the escuela and met Alvaro and Danalee, two other volunteers. They took us down a small track to our house. The house looks quite small from the outside however there are about four small bedrooms, two bathrooms and kitchen areas. There is also a balcony out the back where there are hammocks and a dining area. This is where we ate our meals. The view from the house was stunning, there was a small river which lead to a golden sandy beach and clear blue sea. Our bedroom had 3 bunkbeds and it was quite small meaning that we had to keep all our rucksacks on the end of our bed. This seemed like a pain at first but we soon got used to it. Being in a small bedroom meant that we soon made good friends with the three other girls in our room – Danalee and Kristy (from Canada) and Theresa (from Austria).
Once we had settled and had our first meal (rice and beans) Theresa walked us to the hatchery. The walk is about 5 minutes from the house, along the beach.
The hatchery is located right on the beach and there are stunning views of the whole beach. The area is very relaxing and there weren't lots of tourists around which made it very peaceful.
Roger was the main co coordinator in charge of the hatchery however he did not speak any English and we did not speak very much Spanish! Luckily, Theresa had already been a volunteer for 5 months so she told us all about the hatchery, the different species of turtles, how to build a nest and what happens when the turtles hatch. That afternoon, a nest was being exhumed and we were given the opportunity to watch and learn what happens. The tourists in the area also enjoyed coming to watch this happen. The turtles were later released into the sea. We were glad to be able to experience this on our first day in the turtle camp.
After about 2 days of being in the turtle camp, we had got used to our new routine and accommodation. There is a board which volunteers have all their shifts written down on. Most shifts last for 6 hours and can be at all times of the day. My favourite shift was the 0600-1200 as it was nice and warm and you get to see a beautiful sunrise.
One evening, the four of us released 16 baby turtles into the sea ourselves which was an amazing experience for us. There were no tourists around either, it was just the four of us. This made the experience more amazing. We even named all 16 turtles! Most nests contain over 50 turtles. There are information boards and books in the hatchery and these have all the information you need to know about the different species of turtles.
During our spare time, we explored the turtle camp and the surrounding areas. There are beautiful beaches in both directions, if you just walk and walk in any direction you will see some amazing sights. The town is very small but has two supermarkets, an internet cafes.
So that is why I would like to do this again, I would recommend to do this with uVolunteer.
My Trip Gallery