I started out the week bright and early for my first Spanish class at the Language School. Waking up at seven soon became the norm. Between the monkeys, chickens, horses, sun and the smell of Gallo Pinto coming from the kitchen, sleeping in became a rarity. This wasn't a bad thing; living in a place like Samara, I didn't want to miss a second.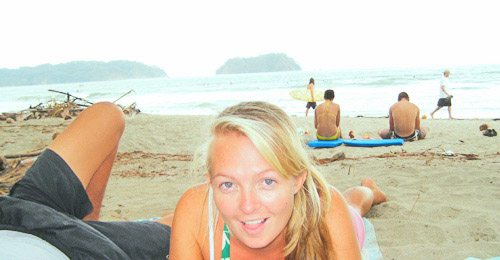 At first I was nervous about the classes being taught completely in Spanish, but I came to realize that you learn more quickly this way because when you're forced to speak it, you figure it out quickly.
I had a lot of fun with my classmates and professor and wish I could have taken the classes for longer, I found them to be very beneficial.
After one week at the language school I was ready to start teaching at El Torito. The mornings began with kinder followed by second or fourth grade. In the evening was the night class for teens and adults. In addition to El Torito, I helped with preschool in Carrillo two days per week. Before I began I thought I was going to have the most trouble with the adult class, and thought I would find the younger kids to be easiest, but I quickly learned that the opposite was true. I found kinder a bit difficult mainly because it was hard to get the kids to listen and focus, let alone complete an activity. Communicating was the biggest obstacle and posed a bit of a challenge. Had I known more Spanish beforehand it would have been much easier to get the children to listen, although, they didn't seem to have much more discipline with their regular teacher.
Preschool was similar, though there were fewer kids, and they were more controlled, communicating with them was an everyday challenge. The preschool in Carrillo was a private school in which families paid for their children to attend. While I believe that my time there was beneficial, I think that we, as volunteers, should be focusing on the areas and schools that may not have the funds for such assets as English teachers. Even though communicating with the kids was difficult, they were always very excited to see us and play games with us, even if we couldn't understand everything they were saying. I truly enjoyed my time with them.
The night class was by far the most enjoyable part of my experience at the school. All of the students were eager to learn and were very good about helping me out when others didn't understand.
I developed friendships with my students which I think helped them to open up more in class and take initiative with their own learning.
I had a lot of fun with them and think it is great that they are choosing to spend their own time learning English.
The food in Costa Rica was definitely one of the highlights. Most meals included their standard dish of rice and beans or "Gallo Pinto." Even at the end my two months there, I still wasn't sick of it. One dish that I found myself eating frequently were casados. These varied depending where you were, but generally included a type of meat of your choice, rice, beans, a small salad, a vegetable or fruit, and sometimes fried plantains. This typical Costa Rican dish could be found at almost any restaurant and was fairly cheap. Last but not least, you haven't experienced Costa Rica until you've had a batido. These are basically fruit smoothies that come with water, milk or yogurt and are blended with fruit of your choice. They are definitely the perfect thing after a hot day at the beach.
Leaving Samara wasn't easy. I met so many amazing people, and the thought of possibly never seeing them again was not something I liked to think about. So, as I lugged my suitcase up to the bus stop, I took one last look around at the people and places I came to know and love, and at Samara, my second home. I hope I get the chance to go back someday!
My Trip Gallery