I helped with some of the guided tours to the Canopy Walk and welcoming tourists. The park manager also asked me to take pictures of the park and its attractions to set up a web-page with the information.There were many rangers and employees working in the park and they were always very attentive and kind to me. It was a pleasure to spend this time with them.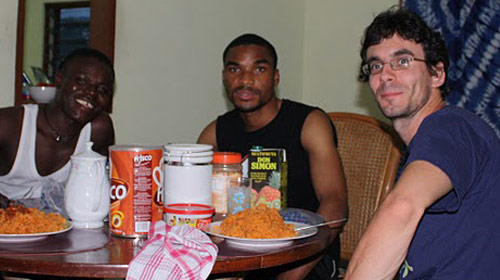 Food:
Breakfast and dinner were usually at home. Cooking dinner is something that takes about two hours since you cook with charcoal (there was a gas shortage during my stay, and anyway, that's how most people cook since they can't always afford gas or a gas kitchen). All dishes are prepared from scratch, and that typically includes a tomato sauce for which you have to mash (by hand) all the ingredients. Banku, rice and pasta were quite usual and the amount of food always absolutely huge. You won't be hungry! Preparing, and cooking dinner is a big deal and a perfect chance to interact with your hosts and whoever else shows up for dinner.
Lunch was provided at the restaurant in the park. Excellent quality. Do not miss the fried plantain or the fufu they make there!
Accommodation:
I stayed in Abrafo Odumase, a village about 30 minutes away (walking) from the park. The village is very modest but, in my opinion, much preferable over staying in Cape Coast. The house where I stayed belongs to the park manager and was also occupied by one of the guides who kept the place extremely clean and neat (and I don't say that lightly).
If you have white skin, be ready to be stopped by children and almost everyone else if you go for a walk. Most likely, you'll be invited for dinner. Sounds like a cliche, but people there will share absolutely everything they have with you.
Off-work:
A couple of times we went to Cape Coast [about an hour away in the tro-tro (bus)] to do some shopping for the house. I took off one of the days with a couple of people from the park and we went to visit the castles and beaches of Cape Coast and Elmina. I absolutely recommend this visit to future volunteers.
Arrival and departure:
Nancy Lamptey and Ekow picked me up at the airport in Accra the morning I arrived and took me to a hotel where I rested. At night I had dinner with them and the day after we took a bus and a tro-tro to get to the park where I was introduced to the manager and some of the staff. Ekow was kind enough to lend me one of his cell phones, which was very useful since, in Obrafo-Odumase there was no other way to communicate.During my stay in the park they called now and then to make sure that everything was going well. The day before my departure I went back to Accra (this time on my own) and spent the night in Ekow's place who kindly offered it.
Final thoughts:
My stay in Ghana is one I'm definitely not going to forget while I live. Without a doubt, my most cherished memory is the people I met there, their kindness and their generosity.
While I absolutely recommend this experience, it may not be for just anyone. Ghana is a safe and pacific country, but you will run into poverty at many different levels. If you can't live without hot water (or running water for that matter) or a written-in-stone schedule you may want to consider another place to volunteer.
My Trip Gallery