I won't say too much as I'll give you the pleasure of getting to know them all personally, but just so you know, you're in very friendly, safe and helpful hands. Roy and Renae have the most English so some Spanish will help. Or there's Violeta the dog, who's the sweetest animal you'll ever meet.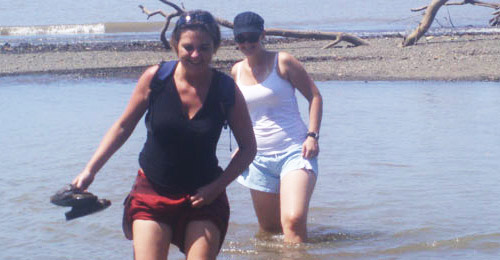 Once you cross the river, you'll walk about 10 minutes to camp along a path (that my fellow volunteers and I macheteed clear!), with Playa Buena Vista on one side and lush green rainforest on the other. It's stunning. And at the end of the trail you'll hit your treehut-style home for the next few weeks…you might want to checkout the pics.
It's very simple living, with no electricity whatsoever, but you learn to live without it, quite fast. And there's plenty of clean running water and candle light. You'll sleep in the upstairs of the tree-hut in either bunk beds or a matress on the floor, with a maximum of 16 other people. It's tight up there so it really is only a place to lay your head. Bring a mosquito net for around you're bed, you'll need it. Along with a bedsheet for the mattress, plus sleeping bag and pillow. The rest of the camp includes a shower, toilet, washbasin, cooking/kitchen area and general hang out area.
The project managers live in separate huts or tents and then there's the hatchery, volley ball pitch and beautiful beach.
You'll probably be given a rundown of what will be expected of you as soon as you arrive. We were shown around camp by some of the volunteers that had been there a while before us. It includes the hatchery, about 30 rows of net covered holes, where all the collected turtle eggs are put. It'll be your job to check the hatchery every 15/20 minutes from 6pm to 6am daily for new arrivals. Everybody stays up to check the hatchery until 8pm and the rest of the time is divided up into shifts, depending on how many volunteers there are when you sign up.
On my first night, 200 eggs hatched. It was so exciting. It's like seeing a swarm of little aliens emerge from the ground!
Your task is to count how many turtles hatched into a bucket before you set them free into the sea. It's easy to lose count in the beginning, because it's quite surreal to come so close to these wee things and they move pretty fast, and they're so, intimidatingly many of them (expect at least 100 per hatch)…but they won't bite and are actually dead cute. You have to be very particular the way you handle them too. You'll be given plastic gloves and red paper to cover your torch… so you don't blind them with the white light. Make sure you're hands are sun block and repellent free too, for obvious reasons.
Once you've noted how many are in the bucket, you'll carry them down to their labelled beach post. They're dying to get going at this stage so once you tipple them free on to the sand, a few metres back from the edge water, you'll have the pleasure of watching them all race to the ocean. Expect to feel almost parental as you coax them on! Some of them are slower than others and there's generally a few branch obstacles in the way so it should take about half an hour before they're all safely in. However, if it's a clear sky with a full moon, it's one of the most amazing experiences you'll play witness to in life. Maybe not so much when it's lashing rain with gael force winds! So that's the regular part of your job.
The rest of the shift work includes patrolling the beach for turtles to find out where they lay their eggs. When I was there, I luckily had a turtle sighting. She had just dug a hole and started laying her eggs. They go into a trance as they lay and don't even notice you there, so you can touch and spectate to your hearts content. Your job maybe even to catch the eggs as they drop into the hole. I was a bit squeamish about this so gave my fellow volunteer the pleasure. You'll feel like a midwife and a poacher all at the same time. The mother doesn't notice you pinching her eggs so once she's finished laying, she'll just start covering over the hole as if nothing happened. Then she'll slowly head off back to sea, while you carry the bag of a hundred heavy, squishy ping pong-style eggs back to camp to be buried in one of the safer holes at the hatchery.
They are funny hours to be working, but the shifts change and you slowly get used to whiling away the hours. Bring lots of reading material and/or iPod.
Your average day will start at 7.30 with breakfast, which is very good. It varies day to day, but you can expect pancakes and maple syrup, cereal and fruit, eggs on toast, gallo pinto and lots of coffee and juice. Then you'll do some manual work until lunch. This means clearing the beach of rubbish, changing the sand at the hatchery, tidying the trails with machetes or cleaning the camp. It can be labour intensive, but great if you want to lose weight! Lunch is generally the same as dinner, which is either gallo pinto with mainly veg, but sometimes meat and cheese, or pasta. Roy's a good cook so it's pretty tasty. The afternoons are free so you can do whatever you like….reading, walking, sunbathing, surfing, swimming etc. Beware though; there are some deadly currents on Playa Buena Vista.
Some of our gang ventured across the river to check out the beautiful beaches and waterfalls north of the camp…where Mel Gibson lives! Didn't spot him though. However, there's plenty of exotic birds, animals, fish and fauna all around to keep you snap happy.
I had a great time on the project, met a lot of great people and learnt a lot, not just about turtles, but from my fellow volunteers and about myself in an unfamiliar situation.
You'll also get the chance to learn a lot about the Tico lifestyle and nature from the turtle crew. I have plenty of happy memories that I'll take from my time on Buena Vista and would definitely recommend anyone to live the experience.
My general view of the setup is positive, however, a lot depends on the weather. It rained the first few days I was there so I was constantly wet and confined to one space, which can be suffocating. You're expected to pull your weight and get only one day off a week. Again, the hours can be tough. There's also a policy of no drink on camp, because no work would ever get done. Saying that, you're free to leave whenever you want…if the river isn't too dangerous to cross that is. Other than that, it's a great place. I'd advise bringing lots of munchy material, repellent and after-bite cream, long pants and t-shirts, sun block, hat and speakers for the iPod I'm sure I've left loads out, but this is only a taster of what to expect. And just to put you at ease, I didn't even see a crocodile, thank god, so you don't have to worry about them too much. But they are there and may lurk, so listen to the guides about where and when you should cross the rivers.
Good luck and have a ball…
My Trip Gallery