My first time travelling outside North America, to Costa Rica, reached and exceeded all my expectations. A friend and I got bored at home and decided to travel, after deciding on Costa Rica and a quick google search, it appeared that the uVolunteer program would be a perfect match for us. uVolunteer helped us organize our travel info, and were very helpful in letting us know what was and wasn't necessary to pack.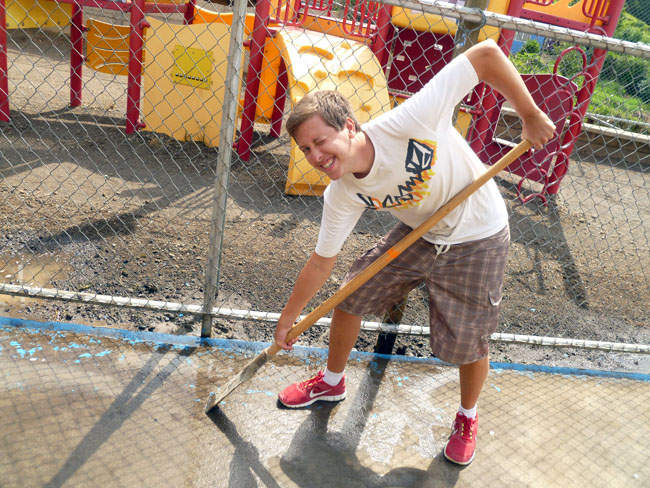 Im very grateful that I was allowed to do this program on such short notice, as many other programs wouldn't have let two guys zip down to costa rica on 10 days notice.
Upon arrival, we were greeted with hugs and smiles at the airport and although it had been 24 hours without sleep, their energy was infectious!! Arriving at the dorms was shocking. I assumed in my head that we would be living in cabins or tents, but the house is closer to a hotel. Hot water, comfortable beds, wifi, 2 meals a day and laundry have made the time spend here incredible!
On our first day we were given a tour of beautiful San Ramon, perfect weather, even better people, and a tight nit community made us all feel welcome. The fruit market is a must see, with produce I have
never heard of in my life including dragonfruit, and guanabana ( a watermelon looking fruit that it white instead of pink, slightly creamy, and ten times as sweet).
After the tour of the city we were taken to Bajo (the village where most of the children from the community center live), which was easily the most eye opening experience of Costa Rica. There homes were little more that glorified shacks, with a single light bulb and no beds, however I have never met happier people in my life. They were all very welcoming and friendly and wanted to share what little they had with us.
At the community center over the next few weeks were the most enjoyable of my time here.
Even though I had gone scuba diving, whitewater rafting, ziplining, snorkeling, and bungee jumping, nothing was as thrilling and rewarding as teaching these kids English and playing our daily Tico vs Gringo basketball games. Each child wanted to learn as much English as possible. Lesson plans were of no use because they told us exactly what they wanted to learn, and even after class kids continued to ask us questions during the activity time.
The children ranged form 2 to 19 and they all loved to play with whatever they had, whether it was making cakes out of mud, playing lamda (tag on the play structure), football, jump rope, or volley ball.
San Ramon and the rest of Costa Rica and Panama have given me memories I will never forget, and friends I will never lose. I plan on coming back to Costa Rica soon to give back even more. I cant believe my time here is over already but I can honestly say that these were the best three weeks of my life!
My Trip Gallery