They were so enthusiastic and fun, we chatted the whole way to the dorm aka the gringo house. My first weekend there was rather quiet. On Saturday, Nohelia took Brittney and David the other volunteer that had arrived on Friday for a tour of San Ramon and lunch. The town is safe and a nice size. The next day the four of us did a canopy tour (zip-lining; it was so much fun despite my fear of heights! That night we anxiously awaited the arrival of the other volunteers living in the dorm that would be returning from their weekend excursion.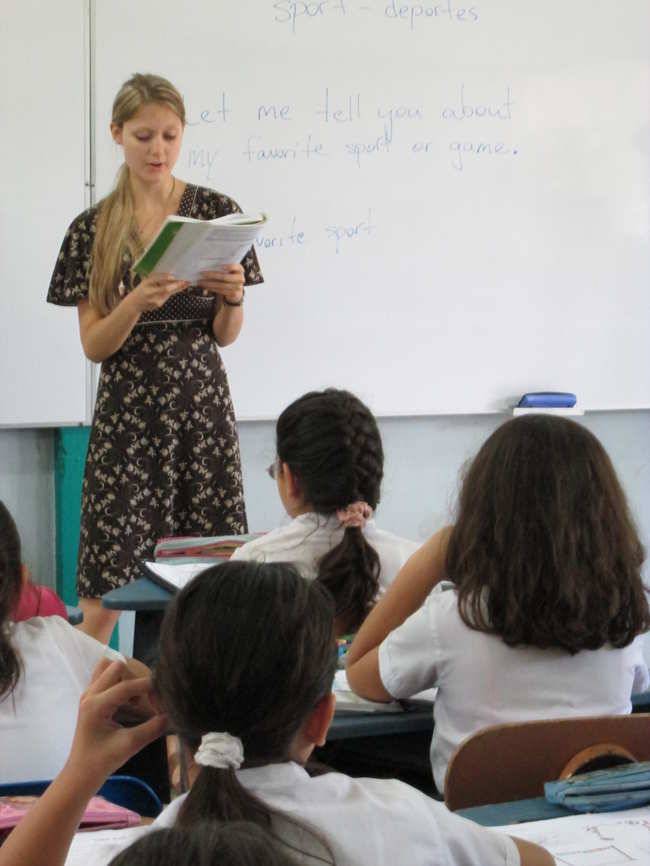 At first, I was nervous about living with so many people. But, without a doubt, they turned what would have been just a good experience into an unforgettable one. While living in a homestay may give you more practice with Spanish, living in the dorm with the fellow volunteers allows you to share your stories and form bonds that will last a life time. I leave here with friends across the United States, Canada, and even Scotland.
Our house mother Dona Isabel, was also wonderful, coming to clean and cook us breakfast and dinner Monday-Thursday. She genuinely cares about us and always talks to us even if our Spanish isn't very good.
My orientation at the community center project was very good. Not only did we get a thorough tour of the center and introductions to all the staff, but we also took a walk through the neighborhood, the neighborhood where the children from the center live. I feel like this was very important because it gave us an appreciation for how little these children have, the dangerous conditions they come from, and how even small things like a hug are invaluable to them. At first it was a little hard to figure out what exactly to do at the center, but as time went on, I became more familiar with the children, how things ran, and areas where I could help.
The most rewarding moments were when children I had worked with recognized me and ran over to me wanting to play or learn English. It is impossible to not love these kids. I truly loved seeing how eager they were to learn and how unspoiled and appreciative they were. I also loved how free the volunteering was at the center. I was not required to come a specific time, and often was able to walk around down town San Ramon with my new volunteer amigos before coming in. Once at the center, I was able help in many different areas: teaching English, reading with children, tutoring them, helping the physical education volunteers with their projects, playing with children, or pitching in other random areas.
The staff at the center is very nice as well and are there if you have any questions. The facility is nice and clean additionally, something I was pleasantly surprised by.
One of the best parts of uVolunteer is that you have Friday – Sunday free to travel as well as mornings and evenings depending on your project. It is a perfect mix of volunteering and vacation. I was only able to travel one weekend, and despite getting sick, I had a good time. I visited Monteverde and La Fortuna. I enjoyed a tour of a coffee, cacao, and sugarcane plantation, a walk through the jungle at night, a hike near the volcano El Arenal, and a relaxing swim in the hot springs. Travel is relatively easy and inexpensive with the plethora of buses and hostels, plus Ligia and Nohelia help you plan any trips. They are there via phone to assist you during your travels, for example, if you accidently get on a bus to Nicaragua or have to visit the medical clinic. During the week, I also had a lot of fun during my free time with the fellow volunteers just exploring the town, getting gelato at Aroma's cafe.
My Trip Gallery