The affordability of the program in comparison to others was a big factor in my decision, as was the ability to take Spanish classes in a language school in Costa Rica. Before I began volunteering, the biggest thing for me though was the option to live in a dorm while I was volunteering. I really liked the idea of living and working with other people who were all in Costa Rica to volunteer and after 8 weeks living in the dorm I have met heaps of people who will remain my friends for life.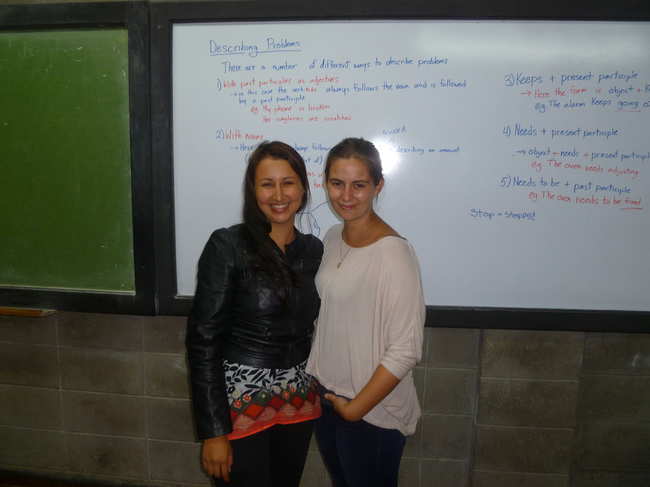 When I first arrived in Costa Rica I was met at the airport by Wagner from Spanish Language School and taken to my homestay family, where I would stay for the two weeks I was studying in San Jose. Wagner was absolutely wonderful, so friendly and willing to help with any issues or questions I had. He organized a Coffee Plantation, Volcano and Waterfall Park tour for my on my first weekend in San Jose which still remains as one of the highlights of my trip.
My time at Spanish Language School was incredible, the teachers there are amazing and so dedicated to helping everyone learn Spanish in a way that is valuable for someone who will be needing to use Spanish in everyday life while in Costa Rica.
My host family were lovely and my time with them really helped me to practice my Spanish as their English was very limited.
After two weeks in San Jose I was picked up by Ligia and taken to pick up a few other volunteers who were arriving at the airport that day. After an hours drive we arrived in San Ramon at the dorm where I would live for the next eight weeks. Everyone in the dorm was so friendly and it was great to meet other people who had similar attitudes to myself and were in Costa Rica for the primary purpose of helping and learning about another culture. We have had a multitude of different nationalities living in the house while I have been here and it has been an awesome experience getting to know everyone and all about their lives and cultures.
For my first six weeks I was volunteering as an English teacher in one of the local elementary schools. The kids are adorable and are so excited to hear about the lives of the volunteers and where we are from. As well as working in the elementary school during the day I also taught English classes for adults at night. These classes were the highlight of my volunteering experience. The students are so grateful for all the help and support and really love learning. It was also really nice to get to know local people from San Ramon, they are so proud of their country and want everyone who comes here to enjoy it and see what is so special about Costa Rica. Whenever we were going away they had ideas about things we had to do and see, and had plenty of ideas and tips for things to do around San Ramon.
Overall, I have found my time in San Ramon incredible.There are always hiccups involved in the organization of something like this, but all in all things have run pretty smoothly.
Ligia is an asset to the organization and without her support things would have been far less smooth, she was always available to answer any questions or deal with any problems and has become a great friend to me as well, so thank you Ligia for everything you have done for me other the last two and a half months, I really appreciate it! And thank you to everyone else at uVolunteer, I have had an amazing experience and will take away some awesome memories. Pura Vida!
My Trip Gallery