Hi,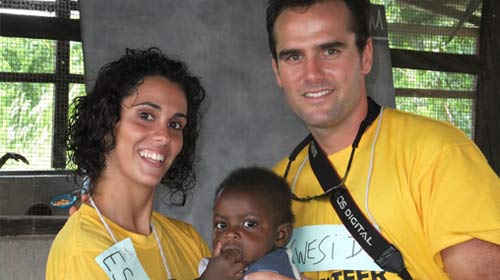 Our names are Demian Martinez and Maria Sansaloni and we both come from Valencia (Spain). First of all we would like to say that we would need a whole book to explain all the things we have experienced together in Ghana with our volunteer program in koforidua for two weeks. But we will try our best to explain them in a few lines.
We have to admit the organization of the program has been excellent, because the staff working for it have been very nice to us and helped us with any doubts we may have had, they also brought us to see different things and cities in Ghana.
They showed us the Ghanaian culture, their main food, music and above all Ghanaian people.
We have to emphasize the fact that the kids in the orphanage and all over the place are very well-mannered and polite. They would share what little they had with you and one of the things that most impressed us was that the very first day at lunch time all the children said "madam or sir, you're invited" and this is one of the sentences that will always be remembered since it's very simple to say but implies many aspects the Ghanaian kids taught us such as politeness, friendship respect for adults and generosity.
Moreover the most beautiful experience we had over here is having the opportunity to teach kids from nearby villages and the ones who lived in the orphanage.
My Trip Gallery