We met the English teachers who explained what our typical day would be like and told us that it would be impossible to give us a schedule because the students schedules change day to day, that we could work the same hours every day, but that we had to be prepared to be sent back home some days due to just about any reason under the sun. One time we were sent home early because the water in San Ramon was turned off, another time it was because it was arbor day; because the teacher was out sick, or even because the teachers had unexpected training meetings. We quickly became accustomed to the varied schedule and really enjoyed our project.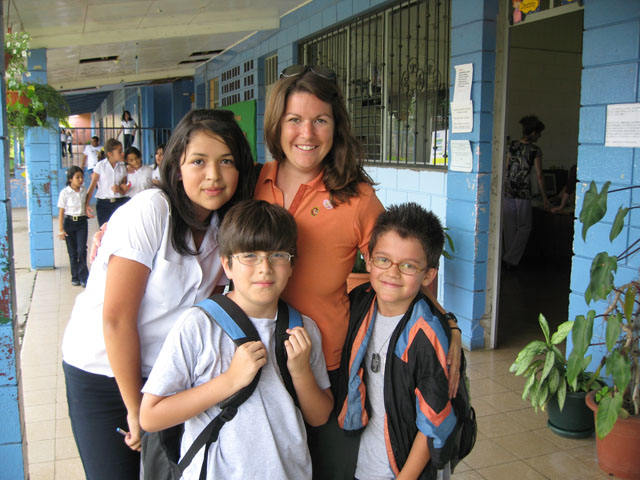 Even though the experiences were new to us and required some getting used to and some flexibility, the English teachers also had to be flexible and get used to having us around. We learned that having a teacher's aide is not common for teachers in Costa Rica. However, for the most part, the teachers learned how to use us to their best advantage in the classroom and we felt very helpful.
The children in the school were easily the best part of the project. They loved having us there and we loved being there.
As we walked down the streets of San Ramon we felt like celebrities as children from the school would scream out our names and run over for a hug or a fist pound or to introduce us to their older brothers and sisters or parents.
When we entered the school every morning we were greeted similarly by almost every kid we passed and when we left every day we repeated the process of hugs and fist pounds.
We ended up in a home-stay that ended up being one of the best parts of the trip. We lived with a woman named Dona Nidia who treated us as though we were her own grandchildren. Every day we were spoiled by her wonderful cooking and hospitality.
On the weekends we were able to travel around the country and see many things.
We visited Monteverde Cloud Forest, Volcan Arenal, Manuel Antonio National Park, and Montezuma/Cabo Blanco National Preserve. We would recommend each one of these locations to people travelling to Costa Rica.
They were all amazing and we only wish that we had more time to see more of the incredible places in Costa Rica.
The locals are called Ticos and they are possibly the friendliest people in the world. We never needed a map because any Tico we passed was more than willing to tell us how to get somewhere. In fact, on more than one occasion a Tico didn't just tell us how to get somewhere but physically lead us there. We have felt very at home here in a country that is so far from our real home.
My Trip Gallery