I quickly picked up quite a bit of the Thai/Isaan (admittedly some of this isn't appropriate for use in the classroom) and its amazing how well you can get on with that little language, even if you do sometimes find yourself having the same conversations over and over again.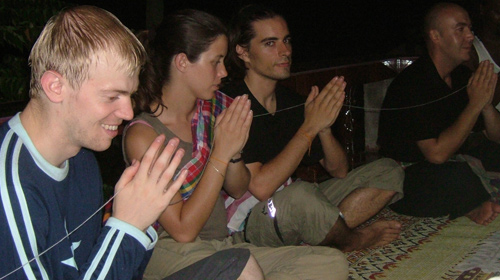 Phon Phisai really gives you the chance to experience Isan village life.
The dorm is located in the middle of a group of Thai houses in which the people are like one giant family.
This initially seemed quite daunting, especially as they spoke virtually no English, but with the help of Jack (uVolunteer Representative) we were quickly made to feel part of the family and where constantly being invited to eat and drink with various neighbours.
Phon Phisai is pretty quiet but there are still plenty of things to do. Jack has his own badminton court and there are nightly competitions with the locals as well as a swimming pool at the local guest house, football, pool tables and the karaoke bars. If you get bored of these there's always eating weird food to keep you occupied.
Since I've been here I've tried buffalo, dog, eel, ant, frog, grasshopper (good in a peanut style snack sort of way), cricket and scorpion amongst other things.
My only regret being that I wasn't here during rat eating season. Another big plus point is that Nong Khai, where there are always numerous other volunteers and Bar Nana (the disco), is only 35 minutes away so it's easy to return there for the weekend.
I'm really sad to be leaving Phon Phisai and have made some great and hopefully lifelong friends here in particular Jack, his girlfriend Pim and neighbour Noung, not to mention the semi-legendary kii mao drinking partnership of Mr Nung and Mr Kum who I'll certainly never forget even if I won't miss their insistence on me drinking Lao at 10 o'clock in the morning.
My Trip Gallery