Thursday December 9th 2010 was a sleepless night knowing I'm going to (uVolunteer) in Costa Rica. Got KCI airport at 3:AM Friday. My flight left at 5:50to Atlanta, GA. Just got to the other side of airport to catch my flight to San Jose, Costa Rica.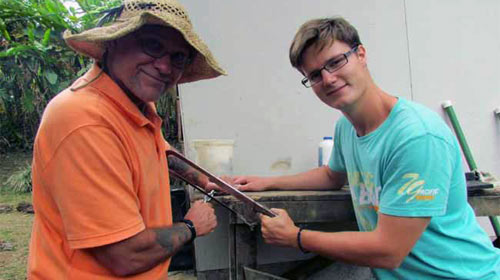 My coordinator Marianella was at the airport to pick me up with a taxi to take me to the dorm in San Ramon. Got my orientation session and then Isabel the dorm mother fixed me a kick ass lunch.
Saturday breakfast then another orientation session with Andres, of the history of Costa Rica then a brief history of San Ramon and a city tour very helpful. This is a laid back country, unhurried, no deadlines you can arrive late but not for the buses, be on time.
You can drink the water directly from the faucet with no worry of getting sick and the foo, chicken, beef, fish, horse yes horse and fresh shrimp is all excellent. Just see where all the Costa Rica families eat and that's the place to go.
Weekend trip : on weekend was all about volcano's. got up at 4:50, got to bus station at 5:00 off to La Fortuna to see Arenal Volcano. Stayedat a hostal. The hostal was arenal backpacker, 5 star hostal, volcano and canopy tours then to the hot spring spa(Baldi)
Weekend trip Monteverde rain Forest: I was unprepared for cool windy and wet weather in the park and an hour bus rie on a steep and winding rutted dirt road that leads to the green mountain. The continental divide 4700ft extends from Canada to Argentina passes through Monteverde almost forgot the waterfalls and the hummingbirds.
Headed to Bocas del Toro, panama for 6 days will stay in ab hostel, going to snorkel andm kayak and maybe try to surf, going to set my ass on the beach. I'm going to fly there not going to take a bus to long on the road for that.
My Trip Gallery