We started with the tour of the house, and dos and dont's and before I knew it, I was making myself at home in the rojo room with three other roommates. The next week was a blur, everything from orientation, to getting to know the other volunteers, to going to the project. My first project was teaching English at Simon Bolivar in San Ramon.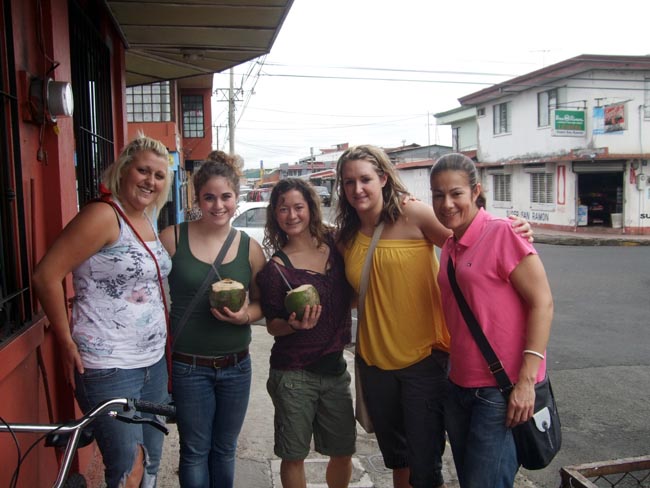 As I arrived on my first day of teaching, right away, I fell in love with the kids. They were so excited to see a new face, and it was very easy to jump into a teaching role.
It was also very easy to adjust to a new routine, and each day the dorm felt more and more like home. Before I knew it, it was time for the children to go on summer break, and time for me to change projects.
The next project I entered into was B, to say the least, it was an eye opener. This is a community project in a very poor township of San Ramon. Although I did not stay at this project long, it was one of the projects that really made me realize that this world is not perfect, and there are people in rough situations all around the world.
The next project I headed to was Madre Verde. Madre Verde is a land reserve in Palmares, about a 10 minute bus ride from San Ramon. There's everything from a butterfly garden, to walking trails, and the views and atmosphere are breath taking. The other volunteers I worked with were friendly and fun. Each day we were doing something new, fixing trails, caring for butterflies, painting etc.
On weekends, I would travel with the other volunteers in the dorm. We went everywhere from La Fortuna, Puerto Viejo, Manuel Antonio etc. Costa Rica is such a beautiful Country, and I highly recommend staying long enough so you can experience it.
Now my experience is coming to an end, and it is a very surreal feeling.
Although I am homesick and miss my family, the dorm became my home and the uVolunteer staff became my family.
I was here for 15 weeks, and within that time, I made friends I will never forget and memories that I will always cherish.
The UVolunteer staff are some of the kindest and caring people I have ever met. They made my experience what it was, and I cannot thank them enough for doing what they have done for me, and what they have done for every volunteer that has come to Costa Rica.
I will miss you all, and you will always have a place in my heart. PURA VIDA!
My Trip Gallery