Jenna received notification from her college of an organization called uVolunteer that assisted people in volunteering overseas.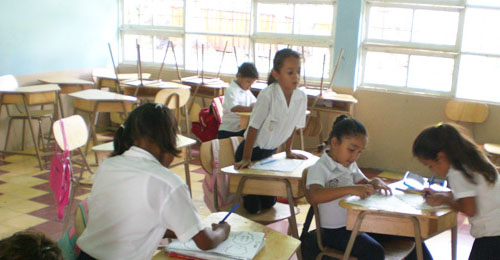 As soon as Jenna told me about this wonderful experience, we were determined to go through with it. During these previous months we analyzed the different types of programs available and the locations. The decision-making process was long and hard but we finally decided that we wanted to help teach English to the children of Samara, Costa Rica. We were not really aware at the time how much this experience would change our lives forever.
Samara was an island of love, acceptance, and worriless pleasure for the people and its environment. There was no judgment and no rush for life to pass by (Tico Time).
It was impossible to be able to see a struggle with poverty through the eyes and expression of the people in Samara.
The only way to see the struggle was to look past the positive attitudes that these people had and only see their surroundings and little they possessed. As I began interacting with the children in the schools, it became apparent what little these children needed to be happy. A simple smile from me was able to light up a child's face. It was at this time that I truly believed in the magic of Samara.
My first week in Samara as a volunteer started with an English Sports Camp for the children of El Torito. Each morning we taught a prepared English lesson to these children. The teaching was tough because some of the children lacked knowledge in their own language. After teaching, the children all gathered to eat lunch together. After lunch, we took the children outside to the field to play and teach them new games and sports. The children loved to play and challenge one another. The week went by really fast although the days were long. We worked at the sports camp from 8:30 a.m. to about 4 p.m. I feel that the camp was a success because the children came back every day with the same smiles and eagerness to learn. On the last day of camp, the children received presents that all of the volunteers had donated to the program. It was an amazing feeling to be able to give such little things to a child who saw it as so much more.
The second week of my stay in Samara gave me more of a chance to explore the culture of the Ticos/Ticas. My job was to teach the kindergarteners of El Torito and the Samara school every morning and to attend an adult class at night. In between my teaching responsibilities, I was able to venture out in Samara.
The beach is a very important part of Samaras culture. Almost every day I went to the beach and enjoyed the peaceful atmosphere.
I was able to surf, which is one of my favorite things. I also took a 6 hour journey on horseback to a 50 foot waterfall. I was apprehensive about this experience because I had never ridden a horse before but it was completely worth it. I learned about the culture and important landmarks that made up Samara and the other towns.
Another part of this trip that I feel helped me to become a more rounded individual was having to adapt to new foods and basically a way of life. The food took me some time to get used to but it was all part of the journey. I was surprised to find that not having a T.V., cell phone, or constant internet access was actually not that hard. There were way too many beautiful sites and activities to do instead. One of the hardest things that I had to get used to was the language barrier. I am not fluent in Spanish or even remotely close, but it was comforting that the people were willing to be patient with this. Another difficult encounter was the cold showers. The first couple of days it was really rough but given the extremely humid temperatures, the cold showers actually grew on me. The transportation was also a little difficult at first because the bus stations weren't always clarified and the buses only ran at certain times. In the end, I found that it was much easier to take a cab or private shuttle. The wildlife in Samara was something that I will never forget. I can remember the expression I had the first time I saw an Iguana, Monkey, Wild Horse, Snake, and Parrot. I was truly invigorated. It was also strange to see so many dogs wondering around. The whole environment was beautiful and worth documenting in my memory forever.
I feel that this experience did change me as a person inside and out. I was able to bring from this journey a better sense of what true happiness is and what it means to give that back unselfishly.
I think that it would be wonderful if every one could have the opportunity to volunteer abroad and share in the culture of somewhere very different than what you are used to.
uVolunteer was very hospital and willing to help make each and every volunteers experience as best as it could be. I am so thankful that I was able to be part of this experience and part of the lives of Samara, Costa Rica. I will never forget the beauty of its people and surroundings and the serene, thankful way of life. It is very hard for me to put this experience into words because words just do not do justice to what you can learn and feel while volunteering. I hope that by reading this you will decide to volunteer abroad in Samara or anywhere else in world and be able to feel the accomplishment that I have. Life is short but Life is good. Pura Vida!