We arrived in San Jose and were picked up by a driver who Nat had set up for us. We met Nat and Meow in the morning, and got excited from their descriptions of the farm that we were going to be working on. That afternoon we arrived at La Gran Vista Agro-Ecological Farm. Donald, the man who runs the farm, Xinia, his wife, Terry, Max, and Larry, their 3 sons, made us feel comfortable from the moment we got there. We were given a summary of the activities we were going to be doing, and were fed a marvelous meal. Within minutes I realized that La Gran Vista was a special place. It is situated about 20 minutes outside of San Isidro at the top of a hill with magnificent views of Southwest Costa Rica. The farmhouse is a beautiful, hand-made, 2-level building that can sleep about 20 volunteers. Donald gave us full tour of the large property in the morning, and we were struck his abundant knowledge and obvious passion for his land. The land sprawls over the hillsides and includes areas of cleared off land, and rainforest as well. Donald and Xinia have created a remarkable project out of their land complete with a greenhouse, an herbal plant hillside, fruit and vegetable trees, paths through dense rainforest, a frog pond, a fish pond, 2 pigs, a cow, chickens, pastures, horses, water pumps, a one family cabin, and so much more.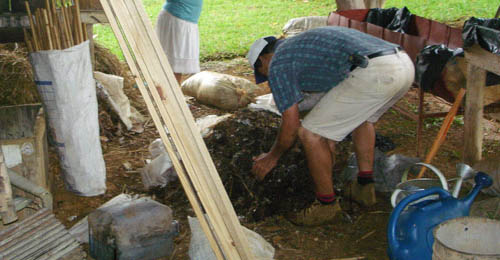 The land is absolutely beautiful, and, as you can imagine, requires a lot of work to maintain. For the first week we were doing maintenance work on the farm. In the morning, Donald would break the group up into groups of about 7 to do anything from planting trees, to clearing paths, to shoveling cow poop. A normal workday was as follows; 6:30 wake up, 7 breakfast, 8-11:30 work, 12 lunch, 1-3 work, 5 dinner. As strange as it may sound, the adjustment to this rigorous-sounding schedule was easy.
Waking up came naturally, with the beautiful sunrise happening quite early, and roosters crowing loudly, sometimes right outside your window. Donald would come around from group to group and really explain what you were doing and why. He has an amazing talent to relate each specific task to the general purpose of the farm.
Donald has worked in agriculture for his entire life, and has witnessed the damage that many of the classic sugar cane and coffee farms do to the land.
His goal is to establish a farm that is self-sustaining and to plant native plants that can revive the land to what he believes it should look like. He uses basic techniques that other farmers can use that can really prevent the land from being harmed.
Each day on the farm, I did something I had never done before. We grew very tight with the brothers, and they took us around to amazing spots we would have never seen. We hiked to waterfalls, drove to a bridge and jumped off, crossed a river to ride horses, just things that I had never been exposed to.
The food was magnificent: 3 heaping meals per day of delicious fresh Costa Rican food. Though the work was hard at times, I found it to be very rewarding.
The program improved my work ethic, my awareness of environmental issues, and put me in the middle of a new culture and country. I would recommend uVolunteer to anyone looking for a life-changing experience in a foreign country.
Thanks to Nat, Meow, Donald, Xinia, Max, Terry, and Larry for everything!
My Trip Gallery