From the pre-arrival information to being picked up at the airport to seeing and becoming acclimated with San Ramon, we were treated as family. Dona Isabel, the house mother, made us great authentic food while Nella welcomed us with open arms. Andres sawn my apprehension about leading a group of students in an unknown country and instantly eased my uncertainty and provided more than would ever be expected. Rebecca was wonderful to work with answering every single question my group had prior arriving.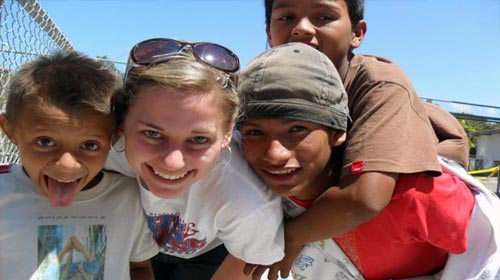 Needless to say, the staff is amazing and gives a true picture of Costa Rican values. The other volunteers were great- they made us feel at home and helped us get around town.
The community center in Bajo is doing great things for the area. Throughout the week, we worked construction in the mornings and studied and played with the kids in the afternoon. Both pieces of the project were great. The smiles of the kids and their enthusiasm to learn stole my heart. Honestly, volunteering there gave me insight to the world and what is meaningful in life. Using the minimal Spanish speaking skills what I had was a great opportunity- one that could not be topped by a typical university class.
While the kids stole my heart and I looked forward to working with them every single day, it is great to know that the center has amazing employees year round. The center also has resources to better all the community. Women's programs, youth groups, and so much more are offered and it inspires me to bring that sense of community home with me.
In addition, the construction work was a sustainable project-something tangible-that will benefit the children as well and we were part of that. The three new classrooms that have been built add so many resources to be utilized.
The project, uVolunteer, Bajo, San Ramon, and Costa Rica are amazing and will forever hold a place in my heart. Pura Vida!
My Trip Gallery