Week 1: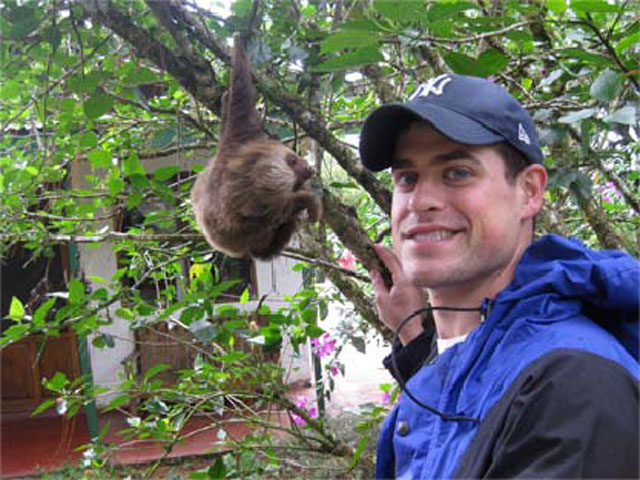 After spending the weekend with my new family, consisting of Omar (an employee of La Reserva) and his wife and three kids, I was ready to start my new job as a volunteer for La Reserva. As the clock struck 4:30 AM on Monday, Omar awakened me with a knock on my door (and something in Spanish I didn't entirely understand) and I knew it was time to get up and get to work. Our walk began in the pitch black and as I followed Omar I was still struggling to fully wake up and grasp what was going on. However, after 10 minutes of walking I was awestruck by the beauty that was before me; the sun rising over the mountains, volcanoes and Lake Arenal. It was at that very moment that I knew I would love it here!
Upon arrival at La Reserva, Omar and I tended to the chickens (something I had never dreamed of doing 48 hours before) and then started on our tasks. Throughout the first week, we watered and planted seeds in the nursery, prepared Guanacaste seeds by opening the shells and soaking them in water and took care of various tasks such as clearing leaves from the trails and the perm culture garden.
Later that week, we were tasked with the job of building a new pen for the baby chickens and their mother. It was really a great time building a whole new structure from scratch, using wood we recovered from around La Reserva and designing the new pen as we went along. The project took all day but when we finally put the little family in their new home, I felt a true sense of accomplishment and reward.
Week 2:
This was another great week at La Reserva. On Monday, Roberta, one of the proprietors of La Reserva, took all day to teach me about the mission and history of the organization. She also discussed the current events surrounding "cap and trade" and other global issues that impact La Reserva and taught me about the different species of trees and animals in Costa Rica. The next day, Omar and I set off to find trees that La Reserva needed to stock. We ventured back through the long maze of trails on the property in search of a variety of species that we could dig up and replant in the nursery. It was really great to get a chance to explore all the lands of La Reserva and see how quickly the forest was able to regenerate itself in just 8 years. I also got the chance to see tons of wildlife and a vast array of plant life. While we were on the trails, we also checked to make sure the fences were secure and we put in new barbed wire where needed.
Thursday turned out to be a very exciting day as, in addition to my birthday, we said our goodbyes to Peluchi (the orphaned sloth that had been living at La Reserva for a few months) and set him free. It was a nice feeling to see Peluchi climb up the tree and venture out on his own and return to his natural habitat.
Additionally that day, I got a chance to go on a tour that Roberta was giving two visitors. The tour taught me a great deal about the different species of plants and animals found around La Reserva and it was nice to see new visitors enjoying all the beauty La Reserva had to offer.
Week 3:
This was another very productive week for us here. Although technically the "rainy season" began the week before, apparently Costa Rica didn't get the memo as there still wasn't much rain. That left us with the task of watering the newly planted trees each morning. On Tuesday and Wednesday, Omar and I headed off to the corridor that La Reserva designed and planted a year ago which connects two primary forests through a field of cattle pasture. It was a moving experience for me to see firsthand some of the finished work the organization has accomplished and it made me feel very proud to be a part of the team. As we walked through the corridor we cleared out some brush that was growing around the small trees and repaired any holes in the fence. Besides the blazing heat (and the ant hill that I inadvertently put my elbow in!), it was a great time.
Additionally that week, Omar and I cleared space in the nursery to make room to plant new seeds for the many projects that La Reserva has coming up. It was tough but rewarding work that required us to clear tall grasses with a machete, shovel and pitchfork. Actually using the machete was one of my favorite activities!
Week 4:
My last week at La Reserva was filled with the task of clearing the many trails and lands on the property. Omar and I walked the interwoven trails clearing grass, vines and logs that were encroaching on the pathways. It was difficult work given the sheer size of the property, but it was also enjoyable as I got to walk the trails one last time and enjoy the beauty during my last week here.
On Tuesday, there was some unexpected excitement as Omar and I spotted a sloth in a tree on the property. After Omar repeatedly called the name Peluchi and the sloth gave a quick look towards us, we knew that after 12 days of freedom Peluchi had returned to La Reserva to see what was going on.
Additionally, the rainy season finally began this week, as every night saw heavy thunderstorms which kindly relieved us of our duty to water the saplings. Also this week I prepared some more Guanacaste seeds and planted some other seeds in the nursery. As my time at La Reserva, and in Costa Rica, wound down I felt a great sense of pride and reward knowing that my efforts over the four week period really helped La Reserva carry out its mission and ultimately assisted the world in its battle to preserve and restore our forests. The work I did, the knowledge I gained and the people I met made the whole experience amazing and I know it is something I will remember and cherish the rest of my life.
My Trip Gallery