To be honest, I had some reservations prior to arriving in Costa Rica. Though I had always wanted to volunteer abroad, learning Spanish had never been high on my priority list. I never expected to fall in love with the country nor like the language as much as I do now.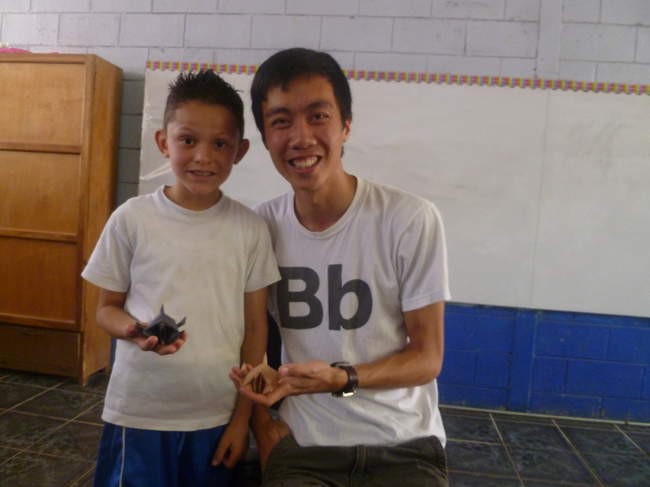 The Portilla family played a crucial role in helping me adjust to life in Costa Rica. They were nothing but patient and understanding despite my inability to communicate effectively. I suppose the fact that I took interest in immersing myself in the culture led them to teach me as much as I wanted to know about Costa Rican history, and more importantly, Costa Rican food. I am also eternally grateful for the staff at Epifania School for all their help and support. With their tutoring and guidance, I grew to appreciate the nuances of Spanish and worked even harder to become fluent.
There is always room for improvement, but I am happiest here when I am having a conversation in Spanish with Ticos and feeling like I belong.
Even now, it seems like a lifetime ago that I was in San Jose. I hardly remember Ligia coming to help Ryan, Ryan, and I move to San Ramon. I had grown so accustomed to living with the Portillas and had become attached with each family member that it was difficult to say goodbye. Regardless, transferring to the dorm here was a natural progression.
It was time to move on, meet new people, and put our Spanish speaking abilities to the test. I appreciated how quaint San Ramon was and Ligia and Mario made us feel more than welcome. Having Kelsey and Tiaan around certainly helped as well since they already had a grasp of the town and graciously helped us orientate ourselves.
By this time, I was eager to start teaching sports and English. I had no idea what to expect from our first visit to Escuela La Palma. I was ready to help out however I could. My initial reaction was shock at how understaffed the school was and how much more could be done to help the kids achieve their full potential. Of course some of them desired nothing more than to play soccer. Others obviously had the motivation to learn and pursue further education. I guess our goal was simply to be a friend and set a positive example. I found Catalina and Kristhil extremely admirable for being able to cope with all the stress.
What was most rewarding for me was having the ability to teach English and translate sentences so that students could understand. Me! Translating English to Spanish! I still can't believe it. It will be bittersweet to say goodbye on the last day. I wish I could stay longer in order to have a more lasting impact on the school.
Escuela La Palma could definitely benefit from having more volunteers around to organize activities, and more importantly, keep kids interested in school. I would go back in a heartbeat.
In addition to the Spanish immersion and volunteering, what I loved about Costa Rica was the abundance of travel opportunities. Every place that I had the fortune of visiting from La Fortuna to Puerto Viejo was spectacular in its own way. I will never forget ziplining through the cloud forests of Monteverde nor lying on the beaches in Manuel Antonio National Park.
I have no regrets. In short, Costa Rica offered a whole new world for me to explore and opened my eyes to a different way of life.
In other words: Pura Vida.
My Trip Gallery