This experience with exciting, unique and learning moments, is something that I wouldn't miss in ages!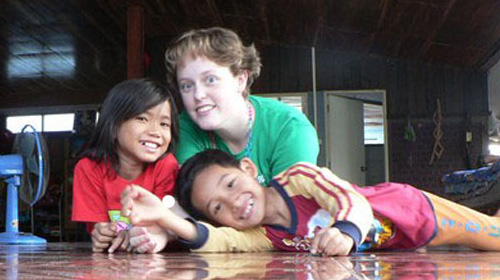 Jack and family: thank you for these two wonderful weeks that I've spend with you. This experience is unforgettable, even like I never will forget you!
Met open armen ben ik hier ontvangen en ik heb heel veel moois mogen zien en leren in deze prachtige omgeving. Altijd liefdevolle en behulpzame mensen om me heen, dat is toch het beste wat een mens kan hebben. Net zoals de vele schattige kinderen die ik om mee heen heb gehad, op de WatLuang school. Ze wilden alles van me weten, me aldoor aanraken en altijd maar zwaaien en roepen naar me. De kinderen en mensen vinden het prachtig en vooral interessant dat er een buitenlander in hun dorp is en dat is hier zeker te merken. Deze ervaring met spannende, unieke en leerzame momenten had ik voor geen goud willen missen!
Jack en familie: bedankt voor deze twee fijne weken die ik bij jullie heb mogen doorbrengen. Deze ervaring is onvergetelijk, net zoals ik jullie niet zal vergeten!
My Trip Gallery