Granted, my first day of volunteering was hectic, the rest of the two months went rather smoothly. On the first day, I was directed into a classroom of wild and uncontrollable 7th graders. I was given a lesson plan and a marker, and possibly a 'good luck'. I was too busy taking in my surroundings to try to comprehend all the Spanish that was being slung around. I introduced myself and took attendance. Taking attendance turned out to be a comedy show because I pronounced everyone's name with my English accent. For example, the name 'David' is pronounced very differently between the two languages. Some students didn't even recognize their names.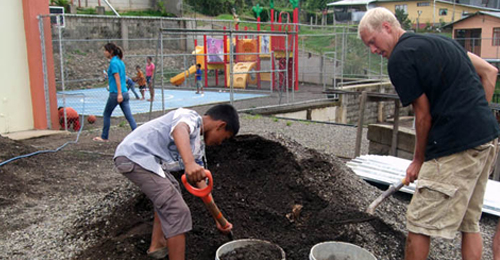 But I came into Costa Rica with a very open attitude. I could have been frustrated, but instead I openly laughed at myself and made fun of my accent. Once I explained to the students that I am learning Spanish just like they are learning English, they realized their English was no better than my Spanish. Eventually, they would help me learn Spanish and would comment on my improvement of the language.
After a week or two, I really got into the swing of things. My body had adapted to waking up at the sunrise 5:15 AM. I got into my normal routine of waking up, showering, eating breakfast, teaching at the high school until mid afternoon, eating dinner, and then teaching night class at the university. Of course, fun was also included in this busy schedule. Often times, I would hang out with other volunteers after night class and travel together on weekends. High school started at 7 AM and ended at 3:30 PM. There was a half hour lunch break in the middle, and occasionally I had a free block, in which I didn't have to teach. Everyday I would stop in the office and receive lesson plans. Each day was something new, and I taught several different classes anywhere from 8th to 11th graders. So, I didn't make any lesson plans; I just showed up and followed the lesson plan that was given to me the day of. In that sense, I would compare myself to a substitute teacher in the U.S. I enjoyed the company of the students, but sometimes it was a long, repetitive, and boring teaching day.
My night class, however, was a completely different story. I actually spent about an hour preparing lessons and games every day before class. I put a lot more effort into teaching the adults, and in the end it was really rewarding. I developed many friendships between several of the students and I even hung out with some outside of class.
While I did feel very needed teaching night class, I didn't feel the same about teaching at the high school. But, sometimes you never realize how important something is until it is gone.
I didn't realize I had much of an impact on my students'lives until after I left. The students at the high school sent me many messages and explained how much they benefited from a native English speaker teaching their English class. They said they missed me, and hoped I would return sooner than later. The adults in my night class all brought food on the last day of class and gave me several gifts.
Volunteering in a different country opened doors in my world that were previously closed. I experienced and participated in a different way of life. I slowly molded into the Costa Rican culture and sincerely feel that I am a different, better person back in the United States. Most everyone in Costa Rica is so nice; I think I brought a small dosage of that back to the States!
My Trip Gallery