The first day when my two friends and I arrived on the farm it was pouring rain. We got there on a Sunday so most of the volunteers were in town or at the beach because you get weekends off, but the ones who were there immediately helped us to our room. Donald, the man who owns the farm, greeted us warmly and showed us which bunks were ours. After we got dried off and a little more settled, we went downstairs to the kitchen only to be greeted by Xenia, Donald's wife, and three cups of homemade hot chocolate and some freshly baked cookies. We then spent the rest of the rainy afternoon relaxing, meeting the other volunteers as they trickled back from their weekend adventures and eventually eating the first of many amazing dinners cooked up by Xenia.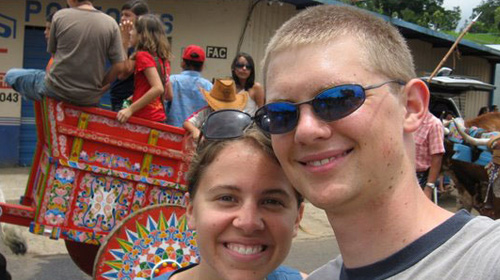 The next day, after our first huge breakfast made by Xenia, we spent the morning getting a personal tour with Donald. He showed us his vegetable and herb gardens, giving us tastes of each plant and explaining how each could be eaten or used for medicinal purposes. Then we went to the fish pond, the frog pond, saw the cow, the pigs, the chickens, the compost worms, the water pump which runs using only gravity, the many soil conservation terraces he has built, and toured all of his many acres of restored and reforested land. And before we headed back for lunch we went to the fruit trees and ate and appetizer of fresh mangoes, guavas and oranges.
The vast majority of the work we did on the farm was conservation and restoration of the land. The farm is in the middle of a large sugar cane farming community, which requires all the forest to be cut down so the sugar cane can receive more light. So what we would do most days was either plant sapling trees or mark hillsides with stakes and plant a special type of grass which helps stop soil erosion. Most of the work required a lot of digging and was fairly strenuous, although nobody would push you to do anything you did not want to do. My friends and I also asked Donald if we could do our own project, something that we could start and finish. What we ended up doing was leveling the ground underneath Donald's son's house and building a cement floor.
It was really cool how we were able to build this whole thing, including leveling it and smoothing it out, with only about three tools other than shovels.
Donald, Xenia and their three sons Max, Larry and Terry are all well educated and extremely bright. Donald's sons do a lot to help run the farm. When Donald is working in one area of the farm, they will instruct the volunteers on what to be doing in another area. This was one of my favorite parts of the farm because Max, Larry and Terry are twenty-five, twenty-two and nineteen respectively, so we became really good friends. The brothers would take us on adventures in the afternoons after work also. For example one day we drove about ten minutes up the road to a forty foot bridge and jumped off of it with Terry (the other brothers are too scared). Another day we waded across the river near the farm to the land where they keep their horses and Max made a bridle of grass and went bareback horseback riding. There is also a huge waterfall you can hike to and swim into a secret cave behind it.
The weekends were also a good opportunity to leave the farm and travel a little bit. There is a beach about an hour and a half away by public bus which is a really cool little surfing town with a fun night life. On another weekend we took the bus about two hours East and hiked the tallest mountain in Central America, where on a clear day you can see both the Atlantic and the Pacific. That hike was one of the hardest but most beautiful hikes I have ever taken in my life.
We hiked up to 12 thousand feet, high above the tree line, where it is freezing cold and there are legends of it snowing!
All-in-all the trip to Costa Rica was life changing. I learned so much about nature and made life long friends, not only with the other volunteers but with Donald and his family. I hope to return one day and would recommend the farm to anyone.
My Trip Gallery