My name is Austin Ikechi, I am a Pre-medical student from Maryland, USA. As a premed, getting the required amount of community service and volunteer exposure at the hospital is an important step in medical school application. Having volunteered at a hospital in Maryland, I opted for a program in a developing country because I feel I can better utilize my skills while gaining valuable knowledge on health care in developing countries.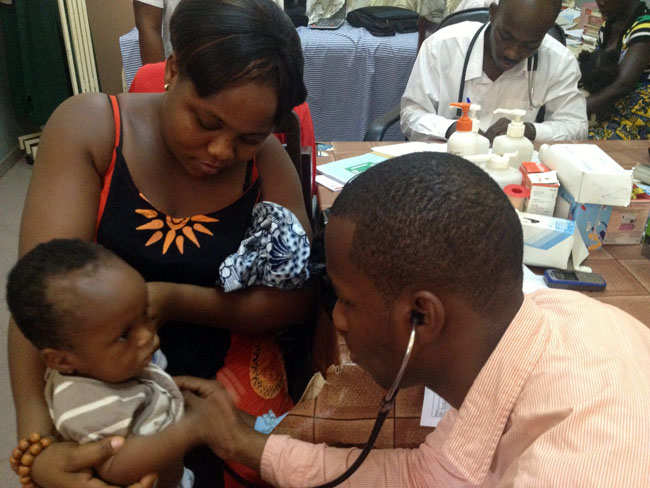 An important aspect of my application process was choosing a program that would be affordable to me, most of the program fees where expensive, which prompted me to do extensive research. I stumbled upon uVolunteer, the price was great, and the response I received from the program when I made my initial inquiries was also fast and detailed. The program director explained the various programs in different countries and which ones would better fulfill my needs. I was satisfied with the logistics, as well as the payment.
On getting to Ghana, I was picked up from the airport by the program supervisor so I did not have to worry about getting confused on where to get a taxi. Ghana was a pleasant place; everyone seemed to want to help when I was confused on what to do.
The program accommodation was also nice, there was free WIFI at the apartment, the shower worked and the bathroom was always kept clean. There were constant electricity and water, so I did not have worry about these basic amenities. There were activities lined up for the weekends in Ghana by the program.
My program started my first Monday; I was introduced to the HR department at Koforidua general hospital where I was scheduled to volunteer. My first placement was in the surgical ward, it was hands on, I started learning right way because the doctors explained the cases and treatment plan to me. I was let to draw blood and set up IV lines under the supervision of a doctor and with the permission of the patient.
There were also lecture series that I attended. Attending theater was the best part, I was able to watch and ask questions on the procedures being done. After the first week, I went to pediatrics ward; this ward was very challenging. The doctors and PA's had review sections that I sat in for, they went over several diseases and their causes and how to diagnose them. After sitting in for most of these reviews, I was let to see patients one on one under a doctor's supervision. This felt like a crash course in medicine.
My last week was in Internal Medicine, the learning process was similar to the other wards I rotated, doctors taught every step and approach they took on the patients. Every doctor had time to explain questions I asked.
At the end of my three weeks, I can say I really appreciate the jobs being done by doctors in developing countries, without state of the art facilities in these hospitals; they do their best to save the lives of people whom they treat. Ghana has been a wonderful place, and I loved every bit of it, from traveling to Accra, to Labadi beach and travelling to Nigeria as well. My advice to future volunteers is, prioritize what you want to do, because there is so much to do. Always ask questions when you feel lost and people will gladly help you. Have fun and get a sun cream, lastly visit the beaches you would love it and most of all come prepared to learn.
My Trip Gallery