Stepping off the plane into Costa Rica, I was absolutely terrified. It was my first time traveling out of the country, let alone by myself, I had no idea what to expect, and I was about to spend three months of my life here volunteering to try to save turtles and the rainforest.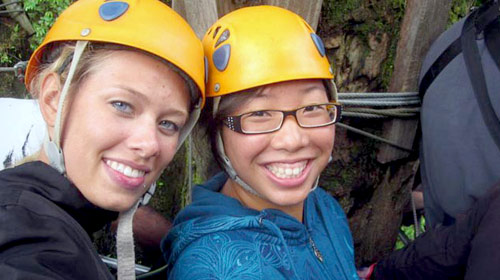 uVolunteer had prepared me for culture shock beforehand, loading me with plenty of information about my projects and Costa Rica itself, so I clung to that as my volunteer coordinator, Laura introduced herself. Right away I felt at ease as I met all the staff, Meaw, Suri, and Dona Isabel, they were all very friendly and welcoming, and the Costa Rica orientation session was informative and helpful. So when I left for the Buena Vista turtle conservation site the next day, I felt ready.
Life at Buena Vista was unlike anything I had ever experienced before. It surprised me how quickly I adjusted to the lack of electricity and running water. You don't even notice it after a while – cold showers are a luxury in the heat and life by candlelight is actually quite romantic! Time flew by and we settled into a routine.
Working hard in the morning, we would excavate the turtle nests that had hatched a night or two before, then dig and carry the sand out to the beach and bring new sand back into the hatchery. We'd also clear trails, clean up the beach, make and apply the new cages for nests, and anything else that needed to be done. The weather was usually gorgeous and absolutely boiling so many times we would wake up at 6 to start work, eat breakfast a couple hours later (the food and fresh fruit there was also amazing, especially Veronika's Gallo Pinto), and then work a bit more to beat the mid-morning heat. It was very physical work and I got stronger every day, in the end, I was surprised to actually own a set of muscles!
At night we would take alternating hatchery shifts, usually for 3 hours, and if there were enough volunteers to spare for patrolling the beach we would do that too. The turtle nests hatch during the night, it's amazing to watch a hundred or so baby turtles squirming up to the surface within half an hour. And nothing could have prepared me for the experience of releasing the babies onto the beach at three in the morning, cheering them on as they waddle towards the water. During a patrol, sometimes we'd catch the mother turtle at exactly the right time as she was coming up to lay her eggs. I even got to stick my hand right under her and catch the eggs as they came out!
On Sunday, our day off, we would have a chance to visit Samara, this charming little town about a half an hour walk away, buy snacks, use the internet, and hit the beach.
One of the perks of being at Buena Vista is that you're basically living on the beach; in the afternoons we would have hours of free time to lie on the sand, swim, and hang out with the other volunteers. It was a lovely way to spend six weeks.
I was really sad to leave Buena Vista for my new project, and saying goodbye to everyone was the hardest thing. But I was also excited for a new experience! So I left with anticipation for San Ramon, where I would be living the next six weeks, working up at the Madre Verde reserve up in the mountain.
Madre Verde was absolutely beautiful, the first day the staff took me up on a tour of the mountain where you had a great view of the city below. They are working to cultivate the rainforest and educate children about environmental conservation, and also have greenhouses and a butterfly garden where I spent most of my time working in.
I really gained a lot of appreciation for these little insects that struggle to survive. It was a lot of exercises to get up the mountain to the project, forty-five minutes of walking uphill, but it was worth it once you got there and breathed the cool mountain air, surrounded by greenery.
Living at the uVolunteer dorm was also ridiculously fun. Dona Isabel, the house mom, is an absolute sweetheart and cooks amazing Costa Rican food. The uVolunteer staff, Meaw, Nat, Marianella, and Andres, were all professional but friendly and fun to hang out with! I would work Monday to Thursday and have Friday to Sunday off to travel and party with the other volunteers. Just over the time of being here, I went to Arenal Volcano, Puerto Viejo, Puntarenas, and Montezuma. Weekday evenings we'd usually all hang out downstairs together and watch a movie.
Unquestionably, the best part of volunteering was the people I met along the way, and the worst part was having to say goodbye to them. You might think it's difficult to live with people you've never met. But for me, it was never a problem. We would always have in-depth conversations about our countries (and debates!) and I'd learn so much about other cultures. I made so many great friends from all around the world and made a lot of new connections, hopefully, ones that will last a lifetime.
All in all, deciding to volunteer in Costa Rica was one of the best decisions I've ever made. It was so fulfilling to know that I was helping people and the earth. I feel I have changed yet stayed the same, become more confident in myself and what I can do. I highly recommend it to anyone who has ever wanted to experience something new, meet interesting people, and make a difference!
My Trip Gallery