At the college, it was track and field qualifications for the West African Poly games. Most of the athletes competed in bare feet, socks, and a few pairs of shoes. Kofi, the 20-year-old man who represented the IT students, won the 1,600-meter race by running it barefoot and still managed to break the school record held for 15 years.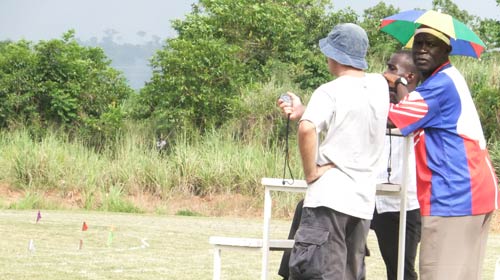 As a volunteer, it took long days to help prepare the field for the event. We had to measure, chalk the lanes for the runners, pick up and move large rocks, dig a large hole for the long and triple jump.
The best part about getting the long and triple jump pit ready was going to a local sawmill with other Ghanaians and bringing the sawdust back on our bicycles.
The day of the event was filled with hundreds of people from the local community and the local college. The telecom company MTN, sponsored the event by giving the winners of each event shirts, trophies, and hats. A very memorable event that I will never forget!
I really appreciate uVolunteer for being organized and providing the volunteers with such a nice environment to live in. Great showers, kitchen, food, staff and a clean house with comfortable beds. Koforidua is surrounded by mountains, so it's a great place to have weekends off. It's close to waterfalls, hiking in the mountains, bicycle riding, local villages, and easy access to festivals in the Eastern Region. Only a quick ride to Accra to see any major attractions in Ghana's capital city.
I really enjoyed the Ghana experience. Charlie, you are invited!
My Trip Gallery