Although it was hard for me to travel without my husband on this trip, within my first minutes in Samara, Costa Rica, I was greeted by my new uVolunteer family which made me feel really comfortable. Nat and Meaw were so welcoming and helpful my first hours there and for the duration of my stay. I was taken to my dorm quarters and met my two roommates. The dorms are cozy, bright, and definitely a residence that belongs in a beach town. That night we all had dinner together on the patio and I was able to talk with my fellow mates a little more. I was in awe that we are literally from all over the world; Thailand, Ghana, America, England, Norway, Canada, and Wales.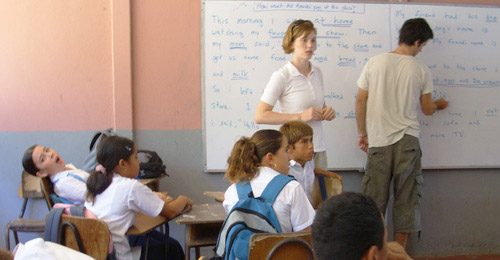 It is always motivating to wake up to the fresh salty air of the Pacific ocean in a tropical country. Coming from a metropolitan area, my first full day in Samara was like a big breath of life. I had orientation and went on a bike tour of the town with Nat. I still could not believe the reality that I was here and in such a beautiful town full of culture and Pura Vida.
I will admit that I went through a culture shock, and this is normal, but literally, the first week I was here, I infiltrated myself with the local population. That is what I enjoyed so much about my placement in Costa Rica; volunteers are serving the local population with and in the local population.
If I would have come to Costa Rica as a classical "tourist", I most likely would not have met local teachers, students, street vendors, residents, and business owners. This volunteer program is not distant from the community, but rather, they are directly apart of it. By actively engaging with Ticos and Ticas here (as well as others from South America and Latin America who live in Samara) I learned more about culture, spoke a lot of Spanish (so much that I started thinking in Spanish), and had such amazing experiences that I would have never experienced if I came here alone and booked myself in a hostel for two weeks. I was happy that I followed through with a volunteer vacation.
During my first week Samara, I served in a community development project at a primary school in Torito, which is about a five-minute bike ride along countryside from my dorm. I was greeted by loving staff and students that were so excited that volunteers were at their school. I met the director, Dona Maria, who is an incredible woman and extremely active in her school and community. I was so impressed with the teachers there. I started as an assistant in a kindergarten class and additionally moved on to teaching English to older children. I worked with three different grade levels and taught with two other volunteers, Oli and Mickey.
I loved collaborating with these two guys and we had the best time in the classroom with our students. Though at times it was hard to control and discipline the kids, they won me over with their fun and loving personalities.
Typically, we would arrange lesson plans for the classes ahead of time. The students are at different levels, so if teaching, it is important to remember to create a lesson for various levels of English. Resources are scarce at the school, so any resources are appreciated. Luckily, a fellow volunteer teacher worked for Oxford so he was able to bring along ample books and activities for the children! It was nice, too, that he left the resources behind for the school to have.
I would say that one of my favorite days in class was seeing the reactions of my students when they played an English game and received prizes. I had brought postcards of Portland and Oregon to hand out to the kids when they won. They were in awe and interested in where I live. They kept pointing at the photos saying "Lindo" and you could tell that they really felt special, that someone took time to provide an experience and gift for them.
I started forming great bonds with my students. I would see them around town and outside of the classroom which made the day for both of us.
There was one day that I began chatting with one of my students on the street and the conversation lasted about one hour. He opened up to me about his home life and life for him around Samara. He was telling me that he wanted to be a veterinarian or work in the tourism industry. Once he said that I grabbed my Costa Rican tourist book and gave it to him, in hopes that he may want to do some reading about tourism here. He flipped to the back pages and started reading the Spanish to English phrases. He pronounced the words perfectly. He kept telling me about the opportunities he wants to create for himself. After talking with him, I realized how much I was learning from him and the other students I encountered and how smart these students really are. My passion for teaching began to heighten.
My Trip Gallery
I had the weekends free and on these days I enjoyed reading, writing, swimming, and relaxing. I created a nice balance for myself of being social and having quiet time. Weekends were a time to try the local restaurants because on the weekend's volunteers are responsible for their food. I ate Casados and sipped batidos almost all of the time, and the fact the meal cost about $5 was great! Weekends were a great time for the volunteers to get to know each other better. We would often stay up late and talk on the patio or play cards. We had a few fires and BBQ's on the beach, surfing sessions, and chats lounging around town. Because I was only in Samara for two weeks, I did not take advantage of traveling around the country because I wanted to spend as much time in Samara as I could, though many of the volunteers traveled and really enjoyed their adventures.
During my last week in Samara, I was able to teach an adult English class. I had never taught adults before, so this was a new experience for me. I had two intermediate students and three beginner students. Although I would always come to class with an objective and a lesson plan, their eager questions often took us on another route. I also learned from these students too. I would joke with them saying that at times they are my professors because they would help me with my Spanish at times! I found it respectable and encouraging that many of my students worked all day and yet still found the time and energy to make it to a two hour night class five days a week.
During my last days in Samara, my students (along with volunteers) took me out to "Tootie" which is a local dance club. My students taught me Salsa and Meringue. I had such a great experience! They really appreciated me as a professor and it was evident.
My last day at the Torito school was memorable. We had a sports day where the students played sports all day and the school sold food to raise money. At the end of the day, the school recognized me and another volunteer with a certificate and a Torito school shirt. We thanked them and were able to talk of our gratitude in front the school. Later that night, uVolunteer held a dinner and some of the teachers and their families were able to attend. I had some of the best conversations with the teachers that night, particularly the conversation with Dona Nina (the school's cook) and her son Rudi. They told me that I am always welcome back to Costa Rica, and when I come back, they will open up their house to me.
They told me that they do not have the fanciest accommodations, but they will give me anything that I would need. This was so kind of them and I knew through their soft words, they spoke genuinely of their hospitable offer.
I was always appreciative of everyone's willingness to give. What I love about volunteering is that you give to others and those that you serve give you so much in return.
I could go on talking about Samara and my experiences with uVolunteer's program. I kept a journal that is already full to the brim with all of my reflections and experiences. Though I enjoyed every minute of my stay, I would say that two weeks was not enough time. Right when I started to get a hold of my classes, the culture and started developing deeper relationships with people, it was time for me to go. I really encourage people that are looking into volunteering abroad to seriously consider a lengthy trip. This way, one is able to commit more time to developing their project and can adapt fully to their surroundings. Also, especially when working with children, it is important not to have too many adults coming in and out of the kids lives for various reasons.
For the weeks that I was in Samara, the volunteers exchanged so many stories, laughs, and dialogue; I honestly can say that these wonderful people will be friends for life. The leaders, Nat and Meaw (though we call her "mama Meaw"), have called us family and have provided the volunteers with exceptional service. We (the volunteers) have all worked so hard together and have abundantly learned from one another.
I taught wonderful students, young and old, and in exchange, they taught me great things as well. I experienced great culture, language, food, and adventure. I learned a lot from the locals and their views on simplistic living, an ideal for my life.
I learned a great deal about myself, too. It has been confirmed to me that I am and want to be a teacher. So much has happened to me in a few weeks, I can only imagine what is happening to the town of Samara as it is constantly being served by a wave of volunteers through uVolunteer.
Take care,
Con mucho amor para la comunidad de Samara.