Fio (the local coordinator in San Ramon) picked me and 2 other volunteers up at our language school on Friday and took us to San Ramon. The orientation to San Ramon and my project was what I had expected it to be, it was very good to be told what to expect from my days as well as the different things the town offers.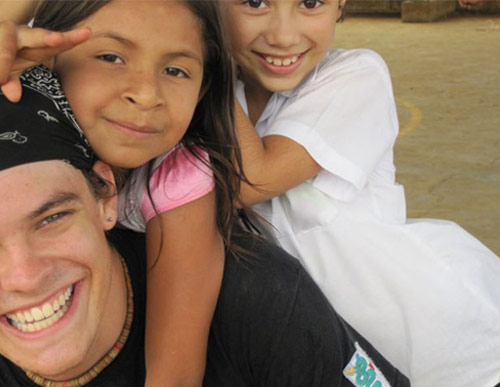 My project was teaching physical education in Escuela Belen. The school, which is not far from the dormitory, is from my understanding, one of the bigger schools in San Ramon. My schedule included 4 classes a day (2 mornings and 2 afternoons) 4 days a week. The school itself has no physical education teachers or materials for the classes. As a politics student, teaching an actual class was something completely different for me (although I do have experience with sports and teaching sport specific lessons,) teaching a general phys ed. class.
My first week was the hardest because I needed to get to know the kids and what they liked in their gym classes, but after that, I settled into a nice rhythm. The classes are held on a small concrete court about the size of a basketball court, and the classes are about 40 minutes to an hour long.
My experience with the kids is on I will never forget. At times, like all children, they can be difficult but for the most part, they are wonderful.
The teachers hang around during the class to help me out and keep the kids in line if they won't listen, but the classes are run by me and the teachers and children treat me with a lot of respect. Since the kids only get one gym class a week I just try to make it as fun for them as possible by playing games like, sharks and minnows, doing relay races, duck goose (for the smaller ones) and LOTS of football.
Life in a new country was something I had to adjust too like I said before the language school helped me adjust but it was something that happened quickly for me. I found Costa Rica an incredibly easy place to live, especially in San Ramon. The people here are very friendly and the town is easy to get around. My weekends were for the most part always filled with travel.
In the 3 months I've spent here I have managed to see some of the most beautiful places I have ever seen. We had a 2-week break in July and I traveled to Nicaragua for a week and it was more than worth it.
My time in Costa Rica working for uVolunteer has been the best time of my life, and I do not say that lightly, the people that I've met and the places that I've been have been truly incredible. Working with kids and living in a new country has been life-changing for me. I have thought about this a lot and I really haven't been able to think about anything negative to write. My only hope is that when or if someone else reads this it helps them choose to come here and not only learn about and help another country but learn about themselves as well.
My Trip Gallery