My host family, as well as the other volunteer families, really make an effort to include you in all family activities. Weather is going to the beach, salsa dancing in the house or just relaxing over a cup of coffee or fresco. Your host family also provides you with all of your meals. This is truly the best way to experience real tico food. The food was amazing an always authentic.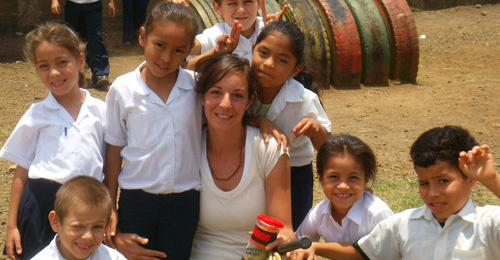 The school I volunteer at was a quaint school located in San Juan, about a one minutes walk from my house. The school was overjoyed to have a volunteer there. They greeted me with hugs and kisses everyday. I taught physical education classes, so this also contributed to all of the excitement.
I really enjoyed my program at Barrio Belen. I got the chance to teach new sports to boys who only knew football and girls who only wanted to jump rope.
One of my favorite moments there was when I saw a 14 years old girl throw a touch down and win the game for her team.
Classes ended on Fridays for me and then it was off traveling. The other volunteers and I would pack up our back packs and take the bus to places like Lake Arenal in La Fortuna, playa Samara and to the Caribbean coast. Taking the bus was always my favorite part; you get the opportunity to really see the countryside and different towns. Traveling is fairly cheap and easy to figure out.
After visiting playa Samara I was relieved that I was not placed there. It was a nice little beach town, but there was very little to do there and the weather was not very enjoyable. San Ramon's weather is perfect. It is warm during the day and cool at night, very similar to California weather.
I couldn't have asked for a better experience. I have met so many great people along the way and seen so many amazing places. uVolunteer was always very helpful and most of all always kind an understanding with all of the volunteers.
My best advice to you would be to pack lightly, fill up your ipod, buy lots of books, come with a great attitude and open mind. Learn from everything you see.
My Trip Gallery