But if you're not sure exactly what the right fit for you is (or you're deciding between a few options), test the waters at home. Because they happen in a more relaxed season, summer volunteer programs are the perfect place to practice working with others in a service setting. Mind these tips:
Stay Local
Being close to home will let you volunteer more frequently––while you also save up some cash for your trip abroad. While you could take part in a summer program that requires leaving your hometown (like a summer camp), that option would require using up time off of a day job. Take advantage of the short commute and flexibility with volunteer hours in your own city.
When you choose to volunteer with a local group, you're mindfully choosing to stay within your community. This will benefit your hometown, and it also lets you form closer bonds with other volunteers: you're all from the same place, share similar hometown experiences, and can grow friendships that can continue long after your volunteering is over. When you focus on serving a local community, you'll be closer to the mindset you should have when you volunteer abroad. International project placements often revolve around one specific organization, neighborhood, or city. So when you practice "thinking local" at home, you're preparing yourself for having that same mindset abroad.
Try Mentoring
Mentoring is a consistent, longer-term way to volunteer in a one-on-one or small group setting. It can help you better personal skills while staying on a flexible schedule! Unlike a set schedule of a camp or organized program, you and your mentee choose your meeting times, places, and frequencies. Because of this, mentoring is a perfect program for those who want to prepare for serving abroad, but still have to balance a full-time job or other obligations.
This personalized setting also allows you to zero in on what it's like to work in education-based fields (like IT or language skills). So if you've considered a volunteer abroad placement in teaching, but you're not certain it's the right one for you––here's your chance to test it out. Local colleges and high schools are usually open to matching mentors and mentees in a specific topic, so they could be the first place you should turn.
Plan Ahead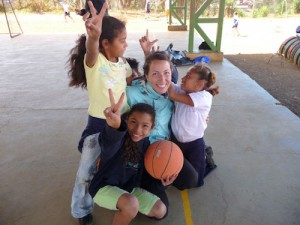 These summer volunteer programs will help prepare you for the everyday tasks of your volunteer abroad placement, but they may also introduce you to other service-minded people. If you all share a common interest in volunteering, there may be some who are also considering taking their talents abroad for a few weeks. If you work well together and find you have these common goals, consider taking your volunteer abroad trip together! Some volunteers find that traveling with a group takes some anxiety and nerves away, while others like to plan and travel solo. This is completely dependent on your personal preferences––but if you'd like to volunteer abroad with some familiar faces, your local service organization's members are a great pool of people to ask.
Takeaway
Choosing a project placement for your volunteer abroad experience can be a pressuring decision. It's the thing you'll spend your days doing for a few weeks (or months). If you're uncertain what you should do, experiment with similar local organizations first. You might find it's the perfect activity for your goals and personality, or you might discover it's not the best place to use your talents. Either way, get this experience before you book your volunteer abroad trip.