In rural Thailand, children don't always have access to the same opportunities as those in wealthier, more urban areas. Many come from disadvantaged families or attend under-resourced schools that can't afford to provide many aspects of modern education.
That's where you come in. When you volunteer in Thailand, you provide extra help in schools and community organizations with budget constraints and serve as a positive role model for kids. Most importantly, you can help them learn English, which opens up a world of opportunities. 
Here are 5 ways you can volunteer with children in Thailand and help shape their futures.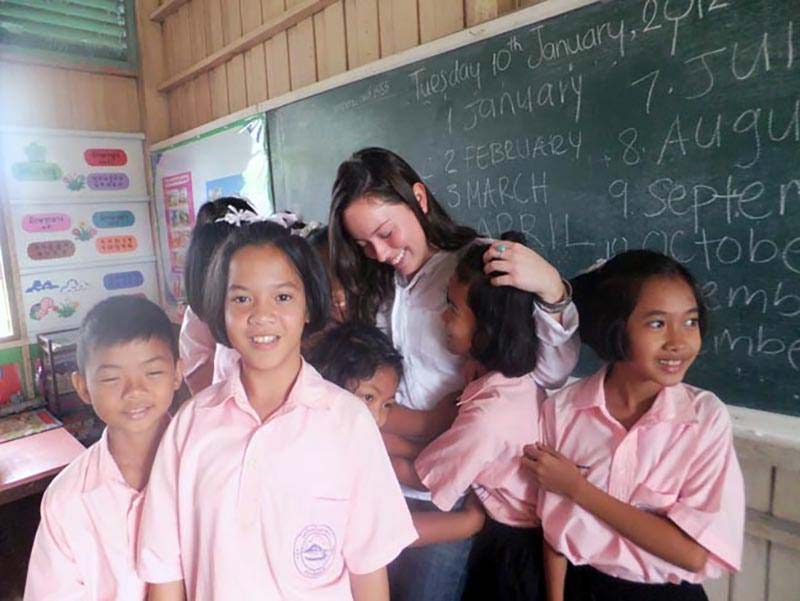 Tourism is Thailand's largest industry, so knowing how to speak English is important if you want a good job. But students in poor, rural communities often miss out on proper English instruction because their schools can't always afford to hire a native English-speaking teacher. And, even if the Thai teachers know some English, they don't always feel comfortable speaking it with students.
As a teaching English volunteer in Thailand, you'll work in elementary schools in Trat helping students learn English by encouraging conversation, which we all know is the best way to learn a language. You'll typically help out with four classes a day, assisting teachers with their lessons.
You may also assist with other activities like camps and educational workshops that take place during school holidays.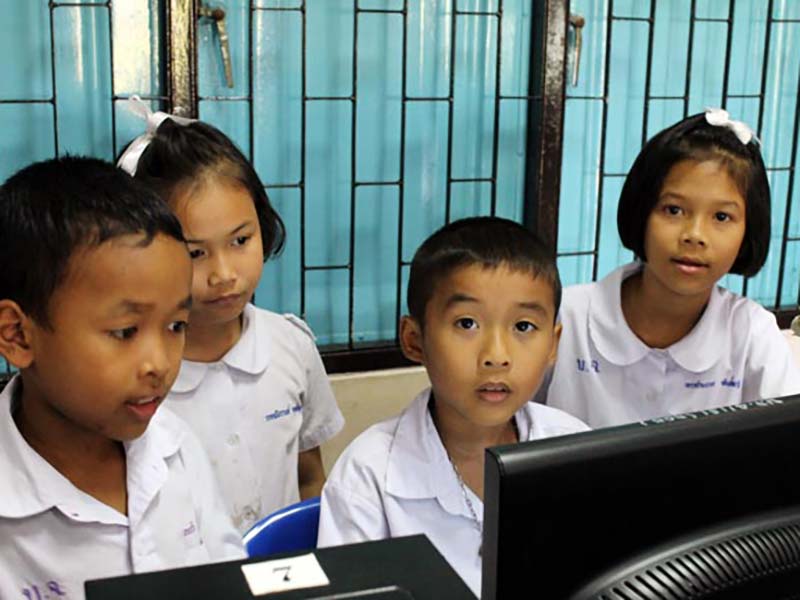 Like English, computer literacy is a basic requirement for landing a good job these days. It's something most of us take for granted. But in some parts of the world, this skill is still hard to come by.
As a computer skills & IT volunteer in Thailand, you can help by sharing basic skills that you use every day at school or work. Typically, you'll work in several schools over the course of the week, teaching 50-minute classes on general computer functionality. For example, you can teach things like how to use Microsoft Office or conduct basic Internet research.
As you can see, you don't have to be a skilled IT professional. If you use the computer for work and school, you're qualified to teach the basics. Of course, if you're talented in areas like graphic design and animation, you're welcome to teach that as well.
Your contribution will go a long way in shaping a child's future and give them the same opportunity for success as their peers in urban areas have.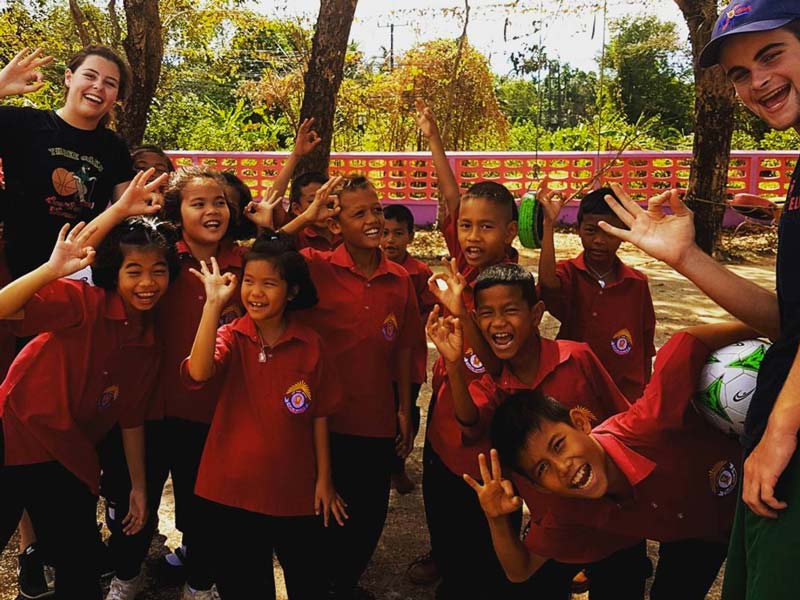 If you're more of an athletic type, why not share your passion for sports with children? When you volunteer in sports and physical education in Thailand, you can spend your days teaching basketball, football or whatever sport you love.
You'll work in public schools assisting a PE teacher with lessons and sometimes leading individual activities on your own. You'll have a chance to introduce students to new sports, encouraging them to get fit and healthy while having fun. In addition, you will also help out with school competitions and game days.
Since the schools have limited supplies, volunteers may bring balls, whistles, and other sports equipment, which you can donate to the school when you leave.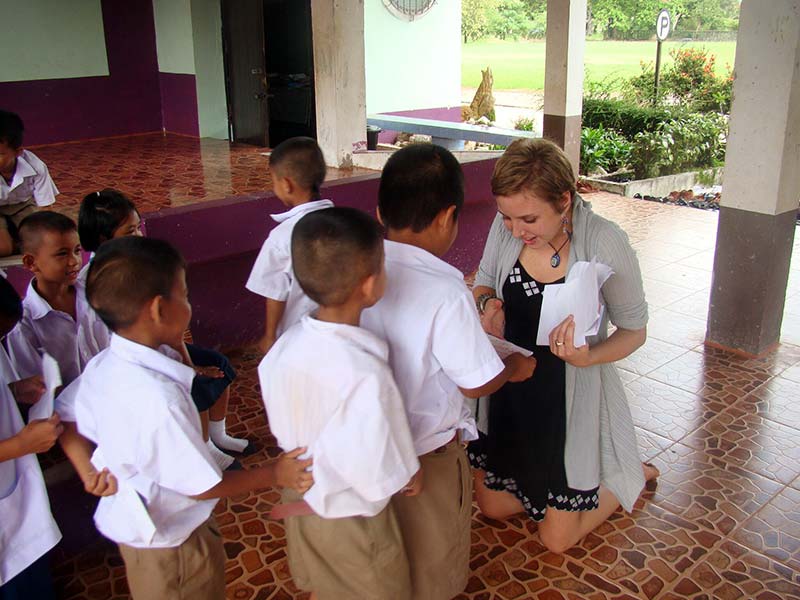 If you want to work outside of a school setting but still want to work with kids, then this project may be for you. Our community education project helps Cambodian children whose families come to Thailand in search of work.
Because they don't speak Thai or English, they often fall behind in school or don't go at all. But thanks to institutions like the Wat Klong Phet temple school in Trat, some of these children can get lessons in Thai and other subjects.
As a volunteer, you'll work at the temple teaching English classes to children aged 2- 15, giving them another useful skill that will help them in the future. You'll also play games with the kids and encourage interaction to help build their confidence in speaking.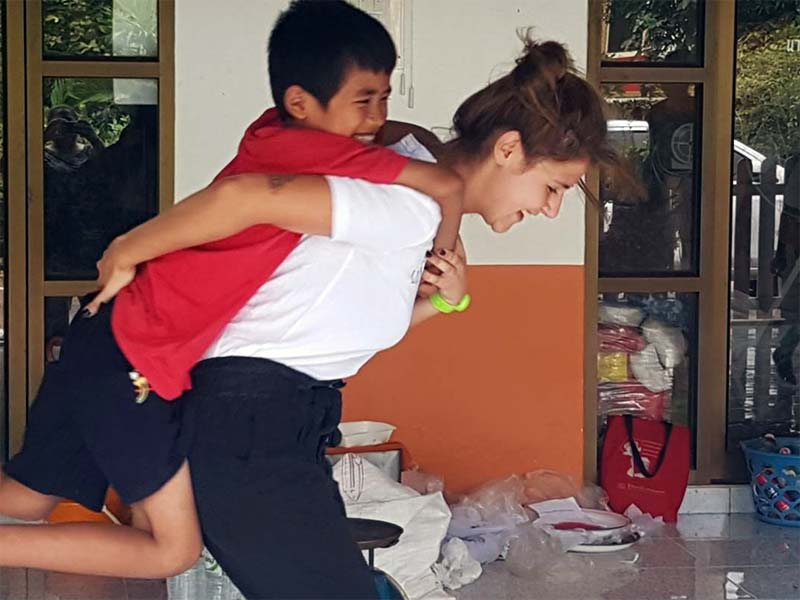 Daycare centers are an essential resource for parents who must leave their children behind to work. Volunteers help out at a Buddhist temple that provides general care and education for disadvantaged young children in Trat.
As a daycare center volunteer, you'll help out with the children's daily routines, organize fun, educational activities, and encourage learning through play. You'll also teach English for two hours a day, giving them an early opportunity to develop this in-demand skill.
Again, you don't need to be a certified teacher to assist. You just need to be patient and willing to help out where needed.
Which project is right for you?
Whether you want to gain teaching experience, provide care to young kids or share your love of sports, there are quite a few ways to volunteer with children in Thailand. Download our free brochure to find out more about volunteering.