We all have some of these food-focused memories. And when you embark on more adventures, like going to college or moving to a new city, you'll make even more. Volunteering abroad is one of those times! Any traveler soaks in the tastes of other cultures' foods while exploring the world, but our Thai volunteers seem to love the fare of their city the most.
As a volunteer in Thailand, you'll get to relax near the water with a bowl of spicy noodles or sear herbs in your dormitory kitchen while cooking with new friends. And don't forget the cafes and restaurants around you! The local chefs are proud to call their food some of the most delicious and flavorful in the world.
These dishes were chosen by our Thailand project staff as the 5 foods you must try when you visit. Because we believe food is such an important part of your stay in Thailand, we'll even teach you to make your favorites in dormitory cooking classes. See which ones you'd like to try:
Massaman Curry: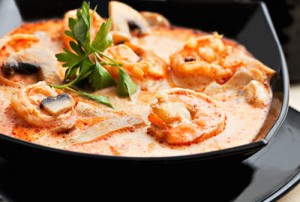 This rich, stew-like dish is one of the staples of a Thai diet. Its Persian roots are influenced by Indian and Malay cooking styles, and the flavors prove it. Ingredients like coconut milk, peanuts, bay leaves, cinnamon, chili, and cumin give this meal the warm, filling spice it needs to make you feel right at home as a traveler. It's usually served with some vegetables, like onion and potatoes––and you could order it with any number of meats, like chicken or beef. Pour it over a bed of rice, and you have the perfect simmering dish to end a day of work as a volunteer in Thailand.
Phad Thai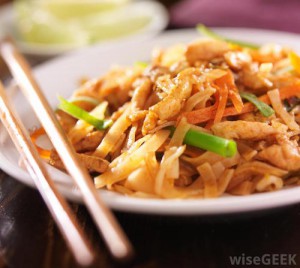 Consumers around the world know pad thai as one of the most popular dishes in Asian cuisine. After trying it locally, our volunteers understand why! The dish is a variety of sweet and tangy spices, stir-fried with rice noodles, eggs, garlic, shallots, and vegetables. Vegetarians and vegans can ask for variations with extra vegetables and no egg. Common sides of lime wedges, ground peanuts, and red chili pepper let you season it to your preferences. Even street stalls and casual restaurant boast some of the freshest, most amazing pad thai you'll ever find.
Basil Chicken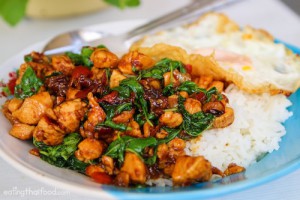 Sure, basil is known for its presence in Italian flatbreads and marinara sauces. But did you know that it's also the main flavor in the most beloved Thai street food? This sweet, easily sauteed herb is a perfect complement to the juicy chicken and fried egg that complete the dish. Garlic and chili oil, oyster sauce, and soy sauce give the basil chicken some heat––and it's ready to eat when you lay it on a bed of jasmine rice. As a volunteer in Thailand, you'll eat this on-the-go all the time!
Som Tam with Grilled Chicken or Shrimp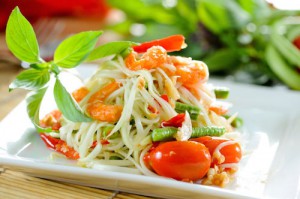 Thailand is hot. Really hot. The average temperature is 83 degrees Fahrenheit throughout the year, and the humidity surprises most travelers. While you'll grow to love the warm atmosphere, you'll still crave cool foods to bring down your body temp! This is why our Thai team loves Som Tam, or green papaya salad. It's a sweet combination of palm sugar, freshly roasted peanuts, grated green papaya, lime, and tomatoes. A splash of fish sauce and garlic/chili spices make for a savory, spicy treat on a hot day. Adding protein, like shrimp or chicken, makes it a filling meal.
Tom Yam

Delicious shrimp are a seafood-lover's dream! Tom yam is a soup-like dish made with many spices––like lemongrass and galangal (similar to ginger). Tomatoes, onions, and mushrooms bring fresh vegetables into this dish without overpowering the savory shrimp. With a little Thai parsley, lime leaf, and coriander, you're ready to eat!
Takeaway
As a volunteer in Thailand, you'll get to try some of the most flavor-packed foods of the Eastern hemisphere: from the sweet combination of basil chicken to the creamy, nutty sauce of massaman curry. And with each of these meals, you'll be making memories to last a lifetime with other adventurous, service-minded travelers like you.

Photos courtesy of (in order of appearance): Favorite Family Recipes, Wise Geek, Eating Thai Food, Thai Food Online, and Soffia Wardy.