The gorgeous coastal towns and fascinating history will pique your interest, but the desire to help these communities will make you stay. With a public education in critical need of assistance, your time as a volunteer in Thailand would be a dedicated, impactful effort.
To help you learn more about what traveling and living in Thai cities is like, we've put together the ultimate FAQ list. We've included the major questions our potential travelers have in this comprehensive post to let you see why the Land of Smiles makes for a wonderful place to volunteer:
How safe is Thailand?
At uVolunteer, we only send volunteers to destinations that we are certain are safe. Thailand has had some civil unrest recently, but these troubles have not affected travelers to the country.
Thailand is still welcoming international volunteers with great appreciation. Our volunteer location of Trat is off the beaten path and very safe and secure, with all volunteers benefiting from a safety briefing and round-the-clock staff support.
How many other people will volunteer in Thailand with me?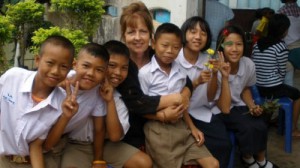 There are always other volunteers on-site. uVolunteer sends more than 400 volunteers to Thailand each year, and our arrival dates are every two weeks, so there is a steady stream of volunteers arriving and leaving.
There will usually be between four and nine volunteers in your dorm at any one time, although the number can increase to 16, depending on the season. Our busiest period is from spring to September.
Do I need any special travel documents or vaccinations to volunteer in Thailand?
During registration, we will provide you with all the documents you need to apply for a visa to volunteer in Thailand. The program also provides you with a full medical and travel insurance through the International Volunteer Card.
How will the weather be when I travel?
Hot... It's always hot in Thailand. It's a tropical and humid country :-)
How much should I budget for daily expenses?

This is a very subjective topic! Thailand can be very cheap or very expensive, depending on your lifestyle. During your working week, the only expense you will have to pay for is transportation to work and back. This is no more than $3 daily. We recommend you budget for around $30 each day, Monday through Thursday. On the long weekends, your expenses will rise a lot because you'll be filling your free time with activities or excursions. Please budget for between $100 and $250 (low-high) for Friday through Sunday. These figures are only suggestions, so if you expect to have a fully loaded social life with weekend travels, plan to spend more. If you're more intrigued by exploring Trat and nearby, local towns, you can budget for less.
What projects does uVolunteer have there?
Most of our projects in Thailand are education-based. See all of our Thailand projects, fees, and testimonials from our past volunteers here.
Takeaway
For more volunteer in Thailand FAQs, basic information about the culture, and to explore more of this beautiful country's possibilities, download our free Thailand Program Guide now!