We've tackled why most volunteer abroad organizations have fees associated with them: the costs go to pay for your housing, meals, in-country support and other costs needed to support you abroad. However, there are some other options for low-cost or free volunteer abroad programs. And we're not afraid to tell you more about them! If you're serious about serving in another country, you should be able to do just that, no matter how much money you're able to save for the trip. So here are 3 other options for your international volunteering, including what you should definitely know about them:
Totally Free
If you're truly dedicated to idea of serving and traveling abroad for longer than a few months, these first two options may be for you. The Peace Corps and Voluntary Service Overseas (VSO) are leadership experiences that send qualified applicants to some of the most in-need countries in the world.
For free volunteer abroad travel and work with the Peace Corps, you must be a U.S. citizen at least 18 years old. In exchange for at least 2 years of service, Peace Corps volunteers will receive funding for travel, airfare, monthly housing and living allowances, a "re-adjustment" stipend upon return after service, and paid vacation days. There is no cost to participate in the program, and most volunteers will be able to defer student loans while serving.
VSO requires at least 12-24 months of volunteering. All costs are included, and your placement will likely be in the developing countries of Africa and Asia. The VSO also runs a youth program, International Citizen Service (ICS), which is available for people only between the ages of 18 and 25. While you won't need to pay out-of-pocket (which is why we've listed this as totally free), you will be asked to fundraise a minimum of $1,250.00 to help with the costs of running the program. The staff of VSO will help you reach your fundraising goals. According to the VSO, "the UK government's Department for International Development (DFID) funds 90% of the ICS program. The other 10% is funded by volunteer fundraising." ICS is open to long-term UK residents and EU or EEA citizens.
Almost Free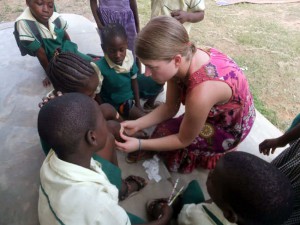 You have many more options for low-cost projects if you'd like to travel for a shorter amount of time. Volunteer South America, World Wide Opportunities on Organic Farms (WWOOF), Omprakash, and Volunteer Latin America are all examples of groups that can arrange your volunteer work and help you get in contact with your hosts for little to no cost. However, in most of these, you'll need to cover your own travel, medical, and living expenses. This means that you'll still have large out-of-pocket costs for things like plane tickets and excursions. But if you're interested in independent travel, backpacking, or serving in very small projects, this may be a good option for you. You won't get the organized group living, program supervision, and structure you would with a formal volunteer abroad company, but they are still great opportunities to travel abroad and create those relationships on your own.
Low-Cost
You probably already know that a simple Google search brings up many options for low-cost volunteer abroad companies. Just because these volunteer abroad programs have fees associated with them doesn't mean they will be the more expensive option overall. If it covers housing, food, insurance, and in-country support, you'll probably be spending the same as you would with an "almost free" option––mainly because you'll have to pay it out-of-pocket there.
Another interesting way to find a great option is one that the travel blog, Almost Fearless, brings up: Contact any company personally to ask about giving your time. You would be surprised how many international organizations have had volunteers without having a specific program set in place to acquire them.
While it's an option to consider, contacting organizations you're not familiar with comes with certain safety and reliability risks. For instance, they will not have gone through the screening or certification processes that many volunteer abroad organizations put their project placements through. You also won't be able to rely on the formal reviews of past volunteers to see what their honest opinions of the experience are.
Takeaway
The bottom line of this post is simple at its core: pay attention to where your money is going when you volunteer abroad, and do your research to discover the right option for your goals and budget. You won't regret traveling the world and exploring the amazing cultures and countries out there. This is an incredible experience that will be well-worth saving up for!