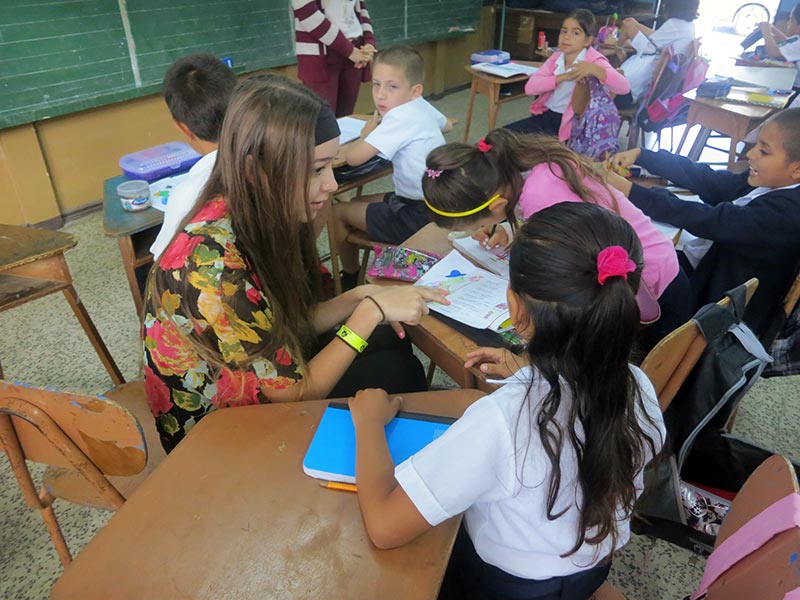 Why you should volunteer to teach English in Costa Rica
Tourism is a huge sector in Costa Rica, so more and more jobs require proficiency in English. As a result, Costa Rican citizens are eager to learn and perfect their English skills in order to be eligible for the best opportunities.
That means there is a ton of demand for native English-speaking teachers.
As a volunteer teaching English in Costa Rica, you'll work in public elementary and high schools or in community classes helping children and adults improve their conversational skills and become more employable. You don't need TESL certification or teaching experience to make a difference. You just need to be fluent in English and conversational in Spanish.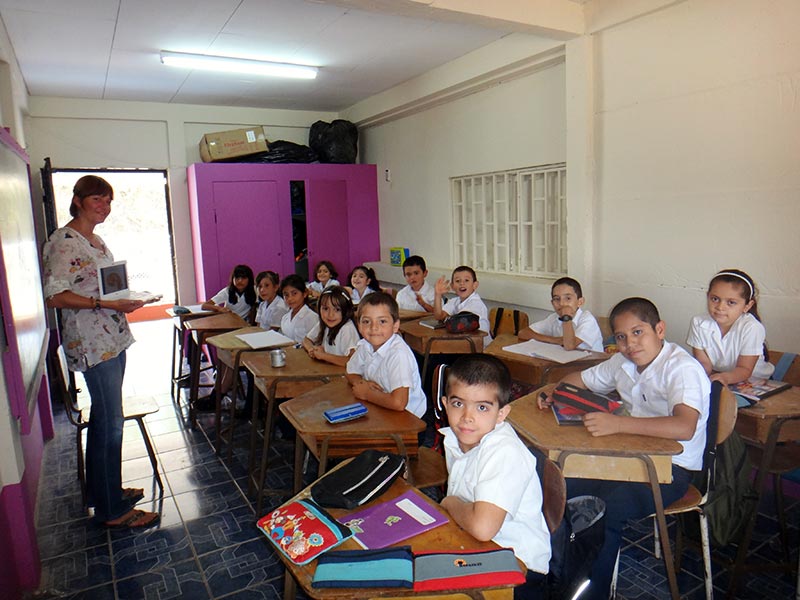 What does a teaching English volunteer in Costa Rica do?
Your exact schedule will depend on the amount of time you have to volunteer. If you have at least 4 weeks, you'll be placed in public schools in the quiet, mountain town of San Ramón. Your main job will be to assist classroom teachers with lessons and help students practice their pronunciation.
You may also help create lesson plans, teach classes, and lead educational activities with younger children.
In poor, budget-strapped schools, the staff-to-student ratio is small so you'll be providing valuable help for teachers who don't always have the time to provide individual attention.
Volunteers who only have a couple weeks to spare instead work in community classes, delivering lessons to adults in San Ramón. But not to fear — these classes are just as rewarding as teaching kids.
The adults are all excited to learn and even more willing to practice speaking with you. And since you'll encounter people your own age, you're more likely to make friends with the people you are teaching. Plus, many of these classes take place in the more relaxed setting of the uVolunteer dorm or at a community center.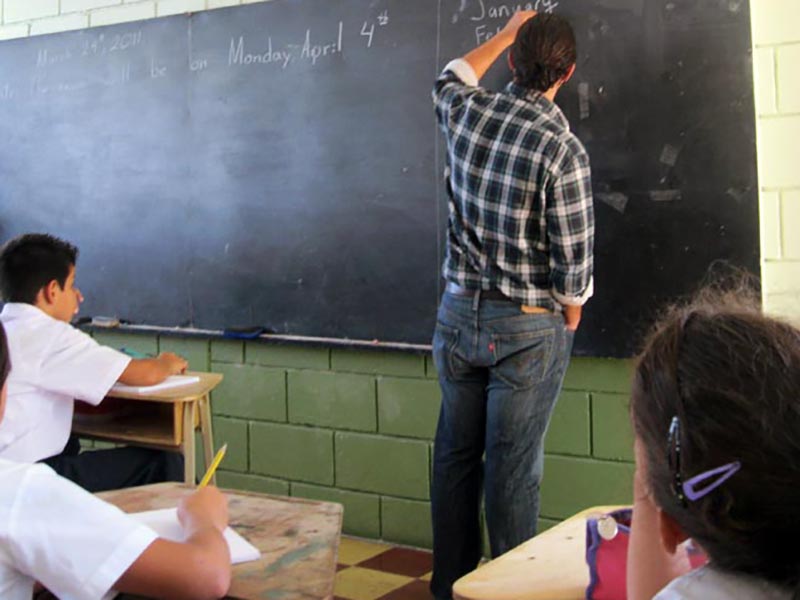 A day in the life of a teaching English volunteer
Here's a typical day as a volunteer teaching English in Costa Rica.
5:15 am: You wake up at sunrise and start to get ready for your day. Ticos are early risers, which might take a little getting used to if you're a night owl. But before you know it, you'll come to love getting an early start to your day.
6 pm: You join your fellow volunteers and dorm mates for breakfast before heading out. Every day from Monday to Thursday, our amazing cook prepares a delicious Costa Rican meal for everyone. Most likely it's gallo pinto — rice and beans cooked together, and served with sides like eggs, plantains, or tortillas. Yep, Costa Ricans eat rice and beans for breakfast ... and pretty much every other meal!
6:30 pm: Time to leave for work, which is about a 30-minute bus ride from the dorm. A few days into your volunteer placement, you're a pro at catching the bus by yourself.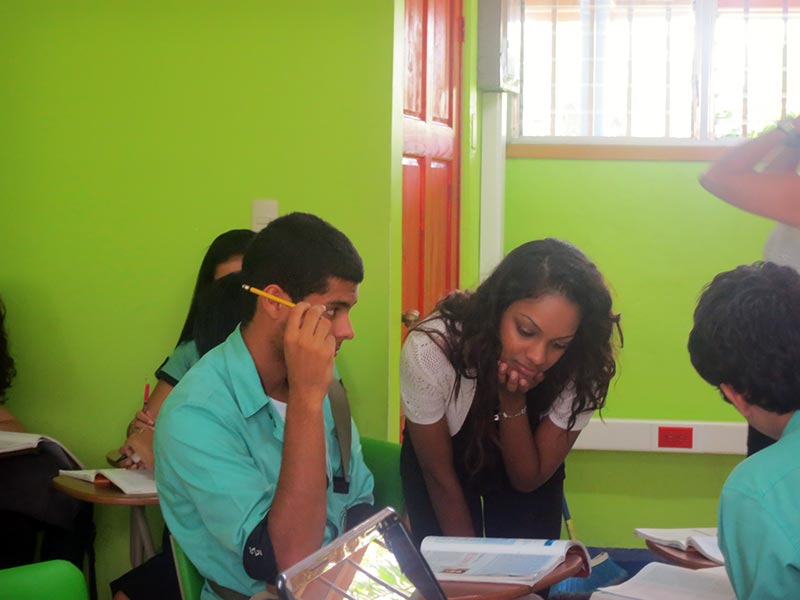 7 am: You arrive at the local school and greet the teachers who you'll be assisting today. If you've been taking Spanish lessons, you'll find your speaking skills improving and joining conversations with your coworkers will be easier.
You review the lesson plans for the day and spend the next few hours helping out with several classes. Throughout the day, you'll teach English vocabulary, play fun, educational games and help students practice their pronunciation. The students are energetic and chatty, but it's a fun challenge trying to keep them quiet using your limited Spanish and their limited English.
They also correct your Spanish pronunciation so you end up learning just as much as you're teaching!
1 pm: It's lunch time. You join your fellow teachers for a meal in the cafeteria or go out to eat to a soda for a cheap and tasty meal, called a casado. After lunch, you wash everything down with a refreshing smoothie made with fresh local fruits.
2 pm: Now you'll be teaching community education workshops where you'll be working with adults who live in San Ramón. Adult community classes are more laid back and may be held at the uVolunteer dorm or at a community center.
You'll be responsible for creating lesson plans and leading classes yourself so you'll get plenty of valuable teaching experience in this setting as well.
5 pm: After work, you'll return to the dorms for dinner with the other volunteers.
You'll then have the rest of the evening to yourself to relax, run errands or join social activities happening in town. If you've chosen to learn Spanish in Costa Rica while volunteering, your classes may be in the evenings during the dorms.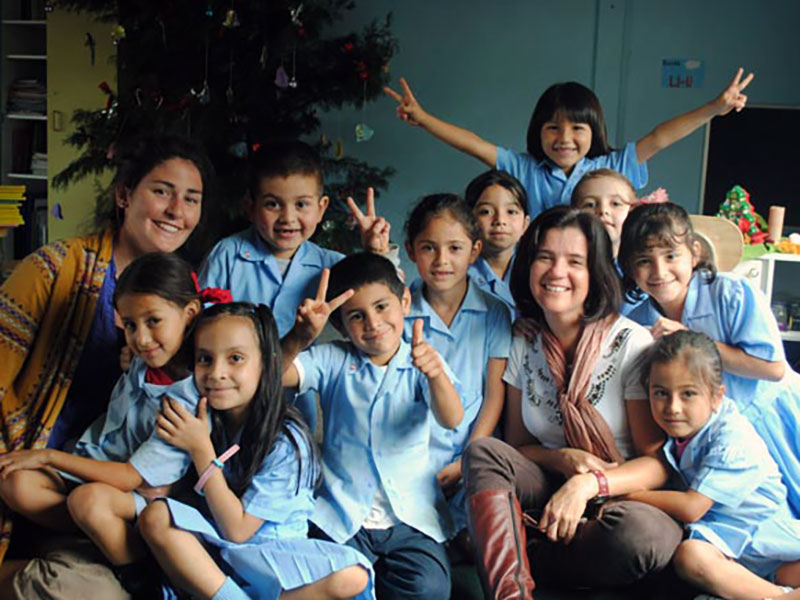 Free time
One of the best things about teaching English in Costa Rica is the fact that you'll be living and working in one of the most beautiful countries in the world. As a teaching English volunteer, you'll only work four days a week. That gives you a long three-day weekend to see more of Costa Rica on your own or with your new friends.
San Jose, Monteverde, and Arenal are all within reach from San Ramón, but there is so much more to see and do during your days off.
Read more: Check out our affordable travel guide to Costa Rica for more weekend trip ideas.
Volunteer to teach English 
Whether you're looking to gain teaching experience or just want to enjoy a volunteer vacation while giving back, Costa Rica may be the place for you. Ready to start your own volunteer journey? Download our free Costa Rica brochure to learn more.