As a volunteer in Thailand, you probably already have a long list of things to do and see during your 3-day weekends. But here are a few of our recommendations for first-time visitors.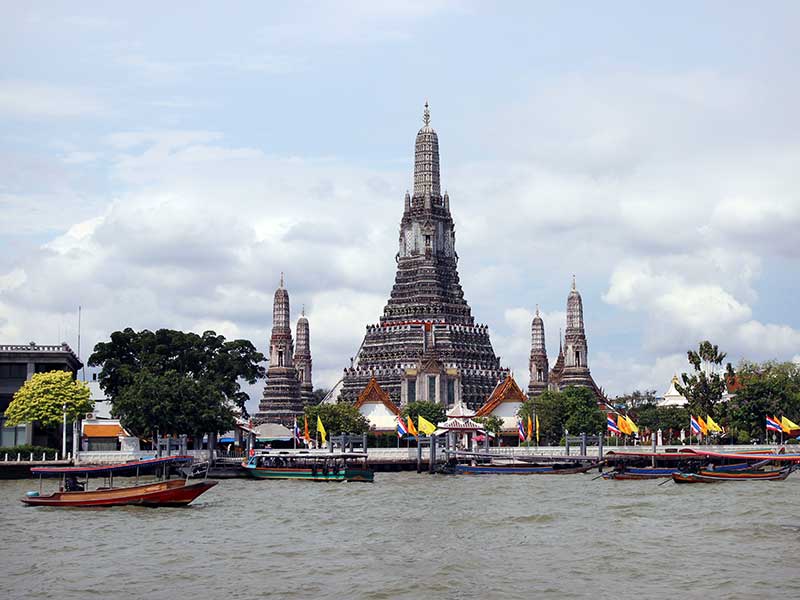 Image: Rolf Heinrich, Köln via Flickr
1. Visit the Buddhist temples.
Thailand's rich spiritual history is apparent in the more than 40,000 Buddhist temples or wats, which can be found throughout the country. If you're spending a couple days in Bangkok, you'll want to see Wat Arun, located on the bank of the Chao Phraya River. The stunning 230-ft long spire and surrounding towers light up beautifully at night. (Tip: You'll get the best photos across the river at sunset).
Also visit Wat Pho to see the famous 141-ft-long, gold-leaf statue of Buddha reclining and Wat Phra Kaew, where a statue of Buddha was carved out of a single block of jade.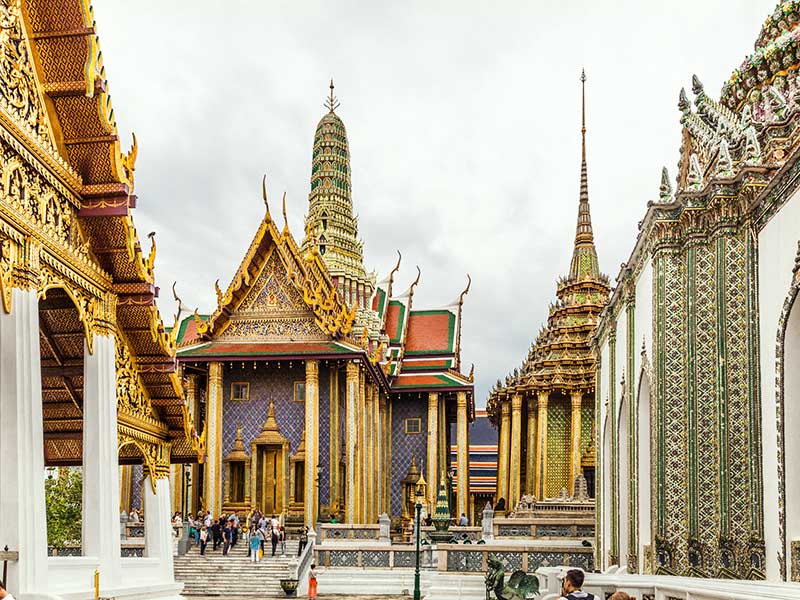 Image: Ninara via Flickr
2. Go to the Grand Palace.
The sprawling complex of royal residences, government offices and temples was once home to the Thai king and the royal family. It's so big you'll need an entire afternoon to take in all the majestic statues, chedis and ornate architecture on display. The palace has a pretty strict dress code, so make sure to wear clothes that cover your shoulders and legs. Also wear closed-toed shoes or bring socks to cover your feet if you're wearing sandals.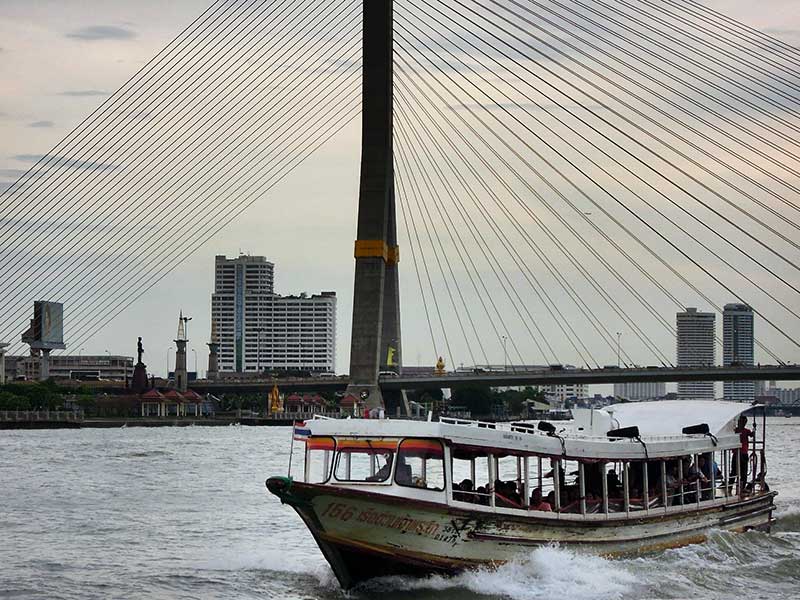 Image: David McKelvey 
3. Take a boat tour of the Chao Phraya River.
This is a great way to see Bangkok for an affordable price. Depending on the boat and how far you're going, a one-way ticket will cost you about 15-25 Baht (less than $1 US). The Chao Phraya Tourist Boat caters specifically to tourists and stops at the most popular attractions, and for 150 Baht (about $5), you can get a day pass which allows you to take unlimited trips.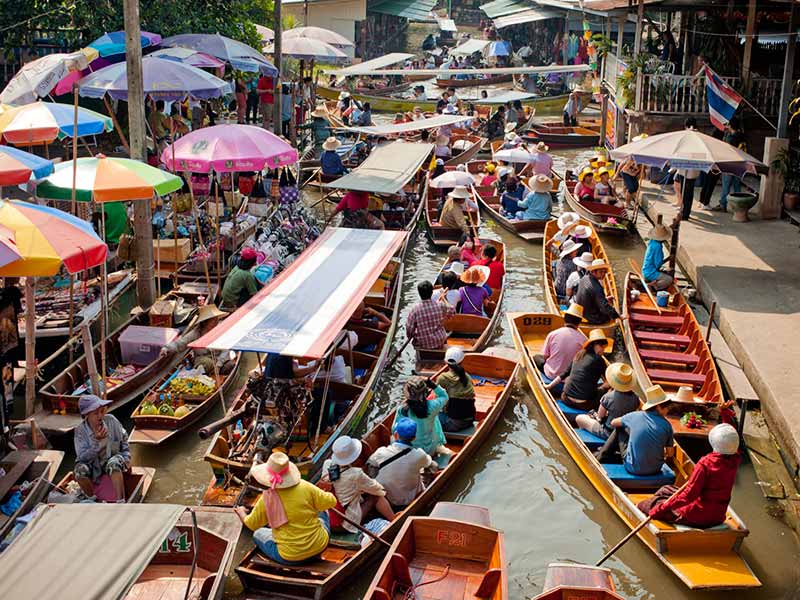 Image: Colin Tsoi 
4. Visit the floating markets.
You've probably seen pictures of little wooden boats piled high with yummy food floating through narrow canals. There are actually several floating markets near Bangkok, with the most popular being Damnoen Saduak located about 90 minutes from the city. Get there early and brace yourself for crowds and lots of excitement, as it gets packed with tourists throughout the day. Still, it's all worth it for a glimpse of traditional Thai culture, great food and epic photos.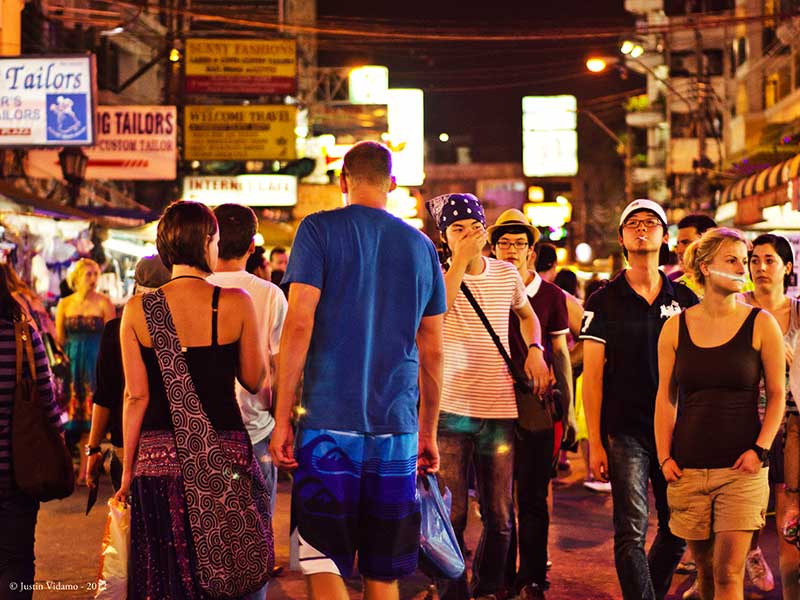 Image: Justin Vidamo
5. Party on Khao San Road.
This is Bangkok's haven for backpackers and solo travelers looking to make friends, party and take advantage of happy hour specials. If you like bustling streets and wild nightlife, then Khao San Road might be for you. But large crowds and free-flowing alcohol mean you'll need to watch out for pickpockets and other signs of trouble, so be alert!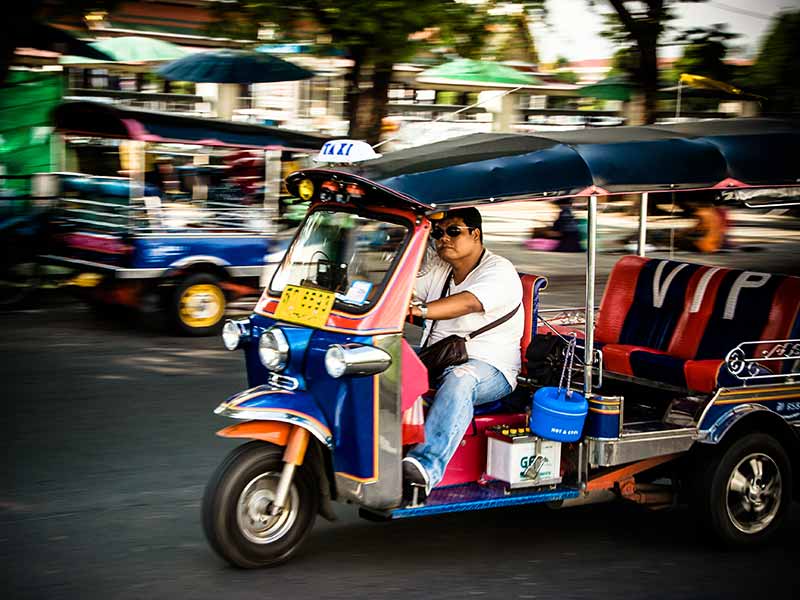 Image: Didier Baertschiger 
6. Take a tuk-tuk ride.
You only live once, right? Tuk-tuks are often the cheapest (and most fun!) way to get around the city. Just hang on tight because the drivers are known for swerving wildly in and out of traffic at breakneck speed.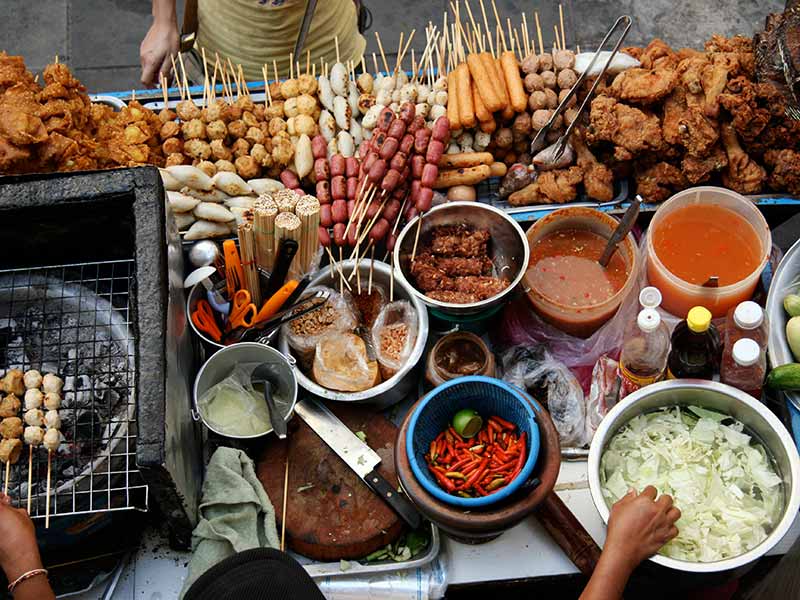 Image: J Aaron Farr 
7. Eat street food.
Perhaps second only to its temples, Thailand is famous for its endlessly available and amazing street food. Whether you're in the mood for delicious noodle dishes, steaming broths, spicy curries ... or insect kebabs, you won't have to look far to find food vendors set up on the side of the street. Pro tip: stick with the stalls where all the locals eat so you know the food is safe and tasty.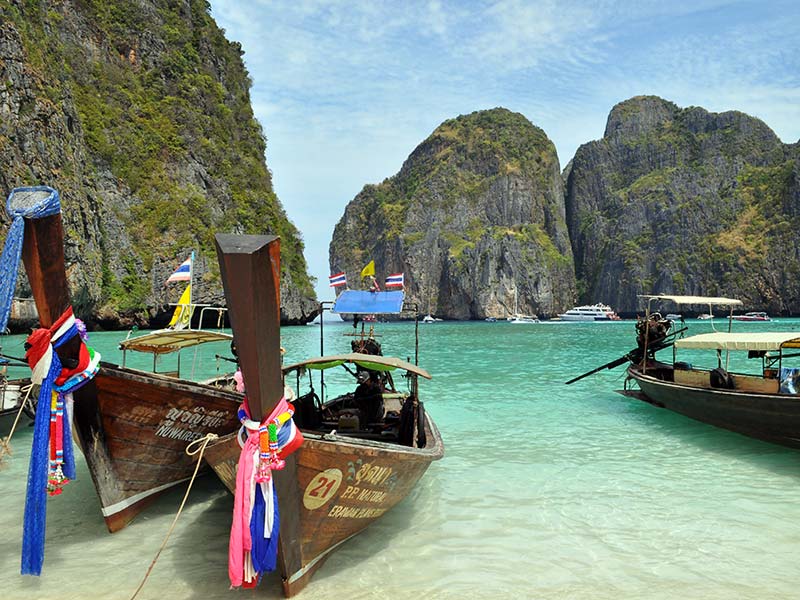 Image: Kullez 
8. Relax on beautiful beaches.
Thailand has a multitude of islands to hop between, but you don't have to go far for a relaxing day at the beach. When you volunteer in Thailand, you'll be based in Trat, a small, quiet community on the southeastern coast of Thailand. Take your pick from a number of quiet and semi-secluded beaches in Trat, including Ban Chuen, Haad Sai Ngam and Haad Sai Kaew.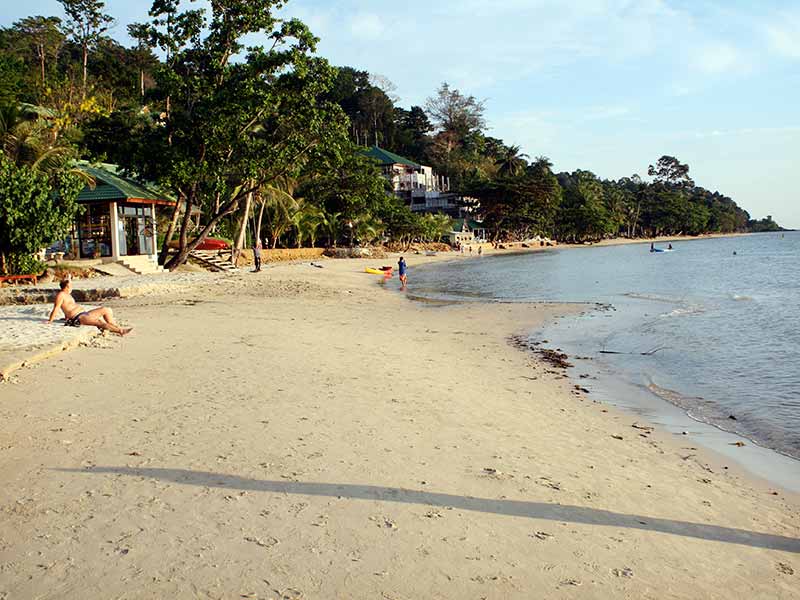 Image: Ryan Latta 
9. Take a ferry to Koh Chang
Want a little more adventure? Hop on a ferry to neighboring Koh Chang — an island just off the coast of Trat. The ride takes 30 to 45 minutes and costs 80-160 Baht (US$2-4) per person. On the island, you can go scuba diving, snorkeling or just hang out on the beach. You can also take a boat tour between Koh Chang and nearby islands. Or for a change of pace, you can go jungle trekking and visit the island's waterfalls.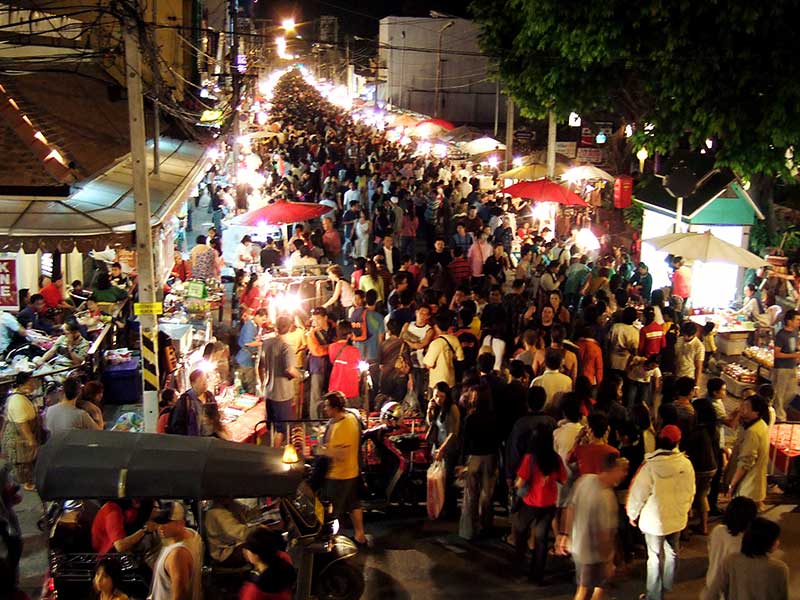 Image: Filipe Fortes
10. Stroll through a night market.
Night markets in Thailand are festive events with vendors selling pretty much everything, including food, clothes, jewelry, and arts and crafts — which can all be had at a bargain if you're willing to negotiate. But one of the most famous is the Sunday Walking Street Market in Chiang Mai, located in Northern Thailand. From 4pm to midnight, several streets in the center of the city are packed with locals and tourists alike, as well as lively street performers and interesting art for sale.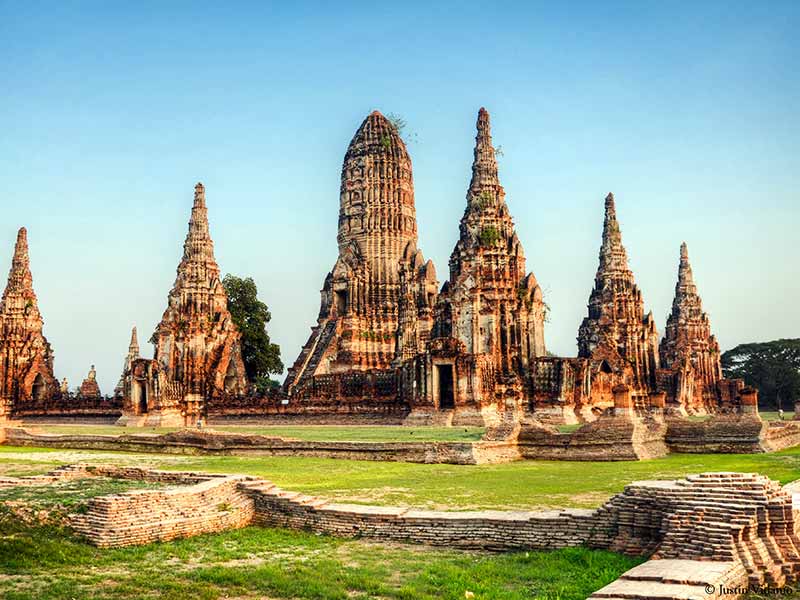 Image: Justin Vidamo
11. Spend the day in Ayutthaya.
Just a short train ride from Bangkok, the historic city of Ayutthaya is a World Heritage Site where the ruins of ancient temples still remain today. You can hire a tuk-tuk for the day to get around between temples (most charge by the hour, but you can try to negotiate a flat fare.)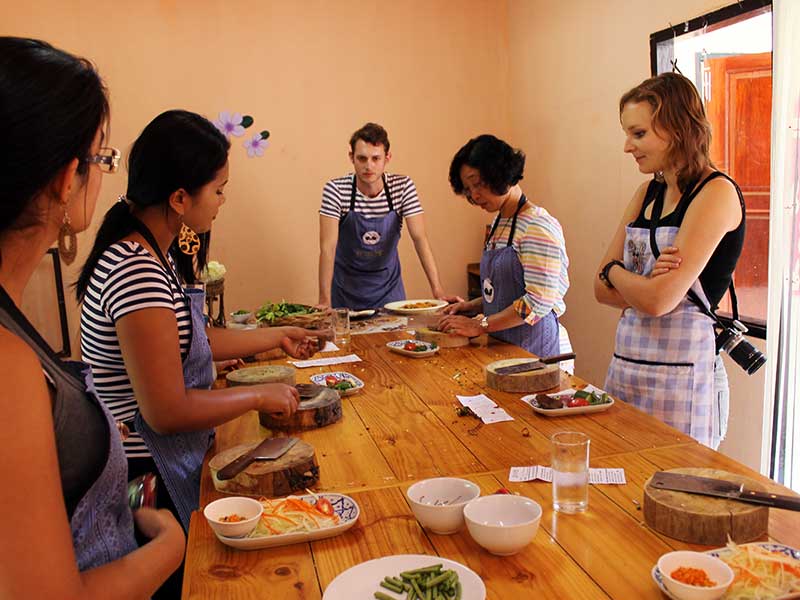 Image: Connie Ma
12. Take a cooking class.
Thai cuisine is known for its distinctive combination of flavors: spicy, sweet, sour, salty and bitter. Spend an afternoon learning how to make your own delicious recipes that you can replicate in the kitchen at the volunteer dorms or back at home.
Download our free Thailand brochure to learn more about our affordable volunteer abroad projects in Thailand.